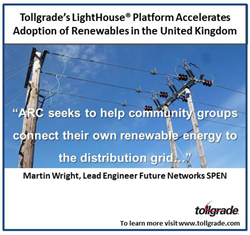 Technologies, such as smart grid sensors with predictive grid analytics are helping utilities and DNOs integrate more renewable energy onto the grid.
Reston, VA (PRWEB) December 07, 2015
Tollgrade Communications, Inc., the industry leader in redefining the global standard for reliability at the world's largest electric utilities and telecommunications providers, announced today it has been selected to provide its LightHouse distribution monitoring platform with Medium Voltage (MV) Smart Grid Sensors to Scottish Power Energy Network (SPEN) for SPEN's Accelerating Renewables Connection (ARC) project.
The ARC project is a real-time operating and control project that uses minute-by-minute network information provided by technologies such as Tollgrade's LightHouse MV Sensors. The sensors allow electricity supply to be matched with demand, allowing the network operates as efficiently as possible for both energy producers and consumers.
This exciting new initiative will help connect renewable energy generation to the distribution power network earlier, while reducing connection costs. While those seeking to connect renewables to the grid will see immediate benefits, ARC is also intended to help meet the UK and Scottish Governments' targets for increasing the amount of energy from low carbon sources.
"ARC seeks to help community groups connect their own renewable energy to the distribution grid," said Martin Wright, Lead Engineer Future Networks SPEN. "What we like about Tollgrade LightHouse Sensors is that they can be installed anywhere on our distribution network. The sensors are extremely easy to install at known impact/constraint points or moved around to monitor impact on the network more generally. This is allowing us to connect more local energy producers to the grid."
"This is the first significant project to use the Tollgrade LightHouse platform to match locally produced energy with demand to increase the amount of renewable connections. We believe this application will become a key driver for smart grid sensors in North America and Europe," said Edward H. Kennedy, President and CEO, Tollgrade Communications. "This project is noteworthy because it will help keep the costs of connecting renewables down while reducing the UK's global carbon footprint. Technologies, such as smart grid sensors with predictive grid analytics are helping utilities and DNOs integrate more renewable energy onto the grid. This will help the UK's meet its carbon reduction targets and support its aims during COP21 as nations agree a way forward of limiting the impact of global warming."
The ARC project concludes its four-year trial in December 2016 in the East Lothian and Borders region of SPEN's electricity distribution network, connecting 2,700 square kilometers – stretching from North Berwick down to Holy Island and inland as far as Hawick and Galashiels.
Tollgrade LightHouse MV Smart Grid Sensors can be easily installed anywhere on SPEN's distribution network and will be used to measure load at various points to better understand the impact of adding renewable generation. With the real-time load information from Tollgrade MV Sensors communicating back to the accompanying LightHouse Sensor Management System (SMS) software, SPEN will be better able to work with community groups to match locally produced energy with demand and take other additional factors into consideration such as network constraints.
About Tollgrade
With more than 200 million lines under test, millions of utility outage minutes avoided annually and 25 years of experience successfully locating faults at the world's largest electric utility companies and telecommunication service providers, Tollgrade is redefining the global standard for reliability. Our award-winning fault detection hardware and predictive analytics software is deployed on four continents to help operators avoid network outages and reduce customer downtime. Tollgrade has been recognized as one of the Top 15 Smart Grid Companies to Watch in 2015 by SmartGrid News, received Fierce Energy awards in "Substation Automation and Distribution Automation" and "Asset Management.", and named Best Smart Grid Innovation' at UK Energy Innovation in 2015 Tollgrade was named the Smart Grid Sensor market share leader in North America by IHS Research, has been recognized as a Platt's Global Energy Awards finalist in 2013 and 2014. To learn more about Tollgrade, visit http://www.tollgrade.com or read more about the benefits of grid modernization on our blog.
Tollgrade Media Contacts:
Anne-Laure Leroyer
Marketing Director
Tollgrade Communications, Inc.
+1 202-701-0083 (mobile)
ALeroyer(at)tollgrade.com
UK
Marcus Edgar
Resonates SLM Ltd
Newbury, Berkshire
t. +44 (0)1635 898 363
m. +44 (0)7810 876 077
e. marcus(at)resonates.com