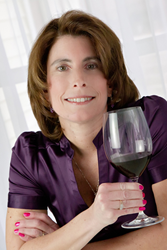 Wine is meant to be fun and enjoyed with friends and family.
Cape May, NJ (PRWEB) December 08, 2015
Debbie Gioquindo who blogs under "The Hudson Valley Wine Goddess" has ranked #38 of the "Top 100 Most Influential Wine Bloggers of 2015".
The rankings were determined by Excel Wines a leading wine retailer located in the UK. The rankings are based on metrics that conclude that these individuals have mastered the process of spreading influence among several outlets including their own websites and on various social media channels.
Growing up in the Hudson Valley Debbie began blogging in 2006. She says, "Wine is meant to be fun and enjoyed with friends and family. I began blogging to share my experiences in wine with others so they won't feel intimidated".
Debbie was Marketing Director for the Shawangunk Wine Trail for four and a half years. She also spearheaded the branding initiative of Hudson Valley Wine Country through a regional branding grant from the New York Wine & Grape Foundation. She currently is Chairperson for the Hudson Valley Wine Competition which takes place annually at the Hudson Valley Wine & Food Festival, in Rhinebeck, NY, and is a contributing writer for Hudson Valley Wine Magazine.
Debbie holds a Certified Specialist in Wine (CTC) designation and Wine Location Specialist (WLS) in Port and Champagne.
"I am honored to be included in the list of "The 100 Most Influential Wine Bloggers of 2015". I love to share my passion for wine and to educate people about it. When I receive tweets, comments and emails of people who've tried wines I wrote about and enjoying the selection, knowing they went out of their comfort zone to do so, makes it all worth while." She is a believer that, "If you like it, drink it"
Her blog found at http://www.hudsonvalleywinegoddess.com focuses on educating the consumer about wine, and wine and food pairings. Her blog is committed to "taking the intimidation out of wine".
Debbie is available for interviews. Contact her at 914.474.7780 or by email hvwinegoddess(at)gmail(dot)com
ABOUT DEBBIE GIOQUINDO, CTC, WLS
Debbie Gioquindo grew up in the Hudson Valley, NY where she blogs about wine under the Hudson Valley Wine Goddess. She currently resides in Cape May, NJ and splits her time between South Jersey and the Hudson Valley. Debbie comes from a family of winemakers dating back to family in Tapolca, Hungary who were wine merchants and vineyard owners. The famiy was very instrumental in the European wine trade and owned six vineyards in Tapolca. Debbie's own journey in wine began in 1997 and she hasn't stopped educating herself about wine and the wine regions of the world since. She began her blog in 2006.
Debbie has worked in the Hudson Valley as Marketing Director of the Shawangunk Wine Trail, and Executive Director of Hudson Valley Wine Country. She is also co-owner of Happy Bitch Wines. Debbie conducts wine seminars and wine tastings for individuals, corporate events and festivals. You can visit her online at http://www.hudsonvalleywinegoddess.com on Twitter, Facebook, Instagram, Pinterest & YouTube.