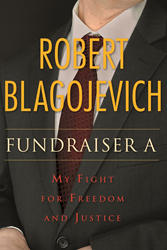 Securing a good defense lawyer and developing key coping techniques are essential to surviving the process
New York, NY (PRWEB) December 09, 2015
If you are need of a great stock stuffer for the law student interested in criminal defense law, or current practicing prosecutor, check out Fundraiser A: My Fight for Freedom and Justice (Northern Illinois University Press) by Robert Blagojevich. Brother of the ill-fated former governor of Illinois Rod Blagojevich, he invites readers to an eye-opening look inside his wrongful indictment charges, the gut-wrenching experience that followed, and his ultimate release when all charges were dropped.
Reviewed in the current issue of the NACDL "The Champion" by David Raybin, Hollins, Raybin & Weissman, P.C., who says," It's clear that Robert Blagojevich's only sin was aligning himself with his brother, the ill-fated former Governor of Illinois Rod Blagojevich who was arrested, impeached, and cast from office and found himself in federal court indicted for a multitude of crimes states. Further adding, "There was––and is––a serious question as to why his brother Robert, found himself standing trial for alleged complicity in soliciting funds for the sale of a Senate seat. As experienced defense lawyers know, the government could hardly care what kind of 'good person' a defendant might be. It is only their alleged sin that is of interest."
Robert says, "I wrote this book to record my experience as an innocent man facing the most powerful government in the world as a criminal defendant. I simply wanted to tell the story of how I went from ordinary citizen to citizen fighting for his freedom. I wanted to give the reader the opportunity to step into my shoes to know how I managed to get by and survive being wrongly prosecuted." He adds, "Let's face it, if the government wants to come after you, whether you are innocent or not, it can do so. And in doing so, it can cost you a small fortune, your reputation, your health, your family, and in many instances your freedom."
Robert has openly shared his story to help others facing similar circumstances to educated and teach them how-to navigate the system, how-to find and retain a good criminal defense attorney, how-to develop coping tools and techniques to survive the process, and the critical importance of establishing a strong attorney/client relationship.
"Fundraiser A" sounds a warning bell about professional responsibility. Robert's portrayal of the damage federal prosecutors' unchecked power can effect is a reminder that Americans must continue to protect their civil liberties and hold their public servants accountable. Though he ultimately prevailed in this "David v. Goliath" scenario to beat the staggering odds of a 96 percent Department of Justice conviction rate when the charges were dropped, he faced financial ruin, the destruction of his reputation, and an uncertain future when he was indicted and refused to turn on his brother.
To learn more, visit: robertblagojevich.com
Books are available online and in bookstores
For interviews, and speaking events contact: Cindy Birne Public Relations - cindy(dot)birne(at)cindybirnepr(dot)com or call: 214-405-8047
# # #