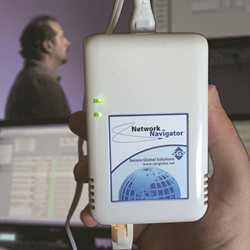 Irvine, CA (PRWEB) December 09, 2015
SGS (Secure Global Solutions), inventor of the patented Network Navigator is recognized for its innovation around solving the problem of secure connectivity without the hassles of IT resources for implementation. In addition, the ongoing monitoring that is provided enables organizations to bring their managed services to the market, ensuring a robust annuity services offering.
Paul Boucherle, one of the reviewers pointed out , "To do this cost effectively, spelled profitably, you will have to make it easy on IT-challenged customers and your technicians as well", and the phone home ability of the Network Navigator saves both time and money.
Thom Meyer, COO of SGS went on to explain, "Our customers who are bringing new cloud services to the market, such as Video or Access Control as a Service (VaaS, ACaaS) are empowered by the level of security and ease of implmentation that the Network Navigator provides".
In addition the Network Navigator provides health, availabilty and performance monitoring of both equipment and applications, which becomes the cornerstone to these managed service offerings.
Click here to review Network Navigator in the December SSI Technology issue:
http://digital.securitysales.com/publication/?i=282857&p=40
Visit Secure Global Solutions and watch the short 90 second video: https://www.secglobe.net/networknavigator/video