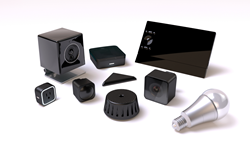 We are so pleased our vision for smart home has been recognized for its innovative approach and brilliant design.
Chicago, IL (PRWEB) December 08, 2015
Fantem Technologies announces that it is a CES 2016 Innovation Award Honoree for Oomi, its smart home ecosystem. Oomi is a complete smart home system that offers a wireless home security system, manages comfort and ambiance, and enhances entertainment. The innovation that sets Oomi apart is its simplicity and easy set up. Oomi utilizes NFC technology, the same tech behind Apple Pay, to make adding a device to the system as simple as a hand shake.
The prestigious CES Innovation Awards are sponsored by the Consumer Technology Association (CTA)TM, the producer of CES 2016. Products entered in this prestigious competition are judged by a preeminent panel of industrial designers, independent engineers, and members of the trade media to honor outstanding design and engineering in cutting edge consumer electronic products. Oomi received the award in the smart home category. "We are so pleased our vision for smart home has been recognized for its innovative approach and brilliant design", said Colin Marshall, Vice President.
Products chosen as CES Innovation Honorees reflect innovative design and engineering in some of the most cutting edge tech products and services coming to market. Entries are evaluated on their engineering, aesthetic and design qualities, intended use/function and user value, how the design and innovation of the product directly compares to other products in the marketplace and unique/novel features present.
Fantem's Oomi will be exhibited in the Sands Exposition Hall at CES 2016, which runs from January 6-9, 2016, in Las Vegas, Nevada and is currently on display at Target Open House in San Francisco through December. There are limited number of systems available for pre-order on Indiegogo. After a record breaking $1.7 million summer campaign on Indiegogo, Oomi is set to launch early 2016.
About Fantem
Fantem is a developer of innovative products and solutions for the home. It is dedicated to the worldwide consumer adoption of smart home technology and the Internet of Things (IoT) through the development of home automation solutions that remove the complexity and frustration associated with existing systems. Together with its global team of experts and partners. Fantem is based in Chicago with offices and strategic partners spanning four continents. For more information, visit http://www.oomihome.com.