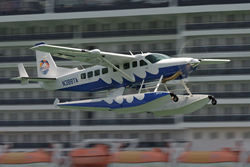 The scheduled service allows us to offer guests a high-end experience of a seaplane takeoff in Miami and a landing in Bimini at per-seat rates.
Fort Lauderdale, FL (PRWEB) December 08, 2015
Tropic Ocean Airways, South Florida's seaplane airline, will reintroduce their scheduled service from the Miami Seaplane Base and Fort Lauderdale to North Bimini after a short hiatus. In early 2012, Tropic launched scheduled seaplane service from the Miami Seaplane Base, located on Watson Island, to North Bimini. The service was suspended after the ferry began operating regularly. With the growth and expansion of the Bimini market, the Tropic Ocean Airways team believes this regular service is once again desired.
Tropic Ocean Airways' founder Rob Ceravolo stated "Utilizing our Cessna 206, we launched the first commercial seaplane charter from Miami Seaplane Base to North Bimini in 2011, marking the first since Chalk's Airlines and the first regularly scheduled seaplane service in 2012. In 2013, we began operating daily charters in cooperation with Resorts World Bimini in our larger Cessna Caravan Amphibian out of Fort Lauderdale, Miami, and Palm Beach. Now, in 2015, we are thrilled to bring back regularly scheduled service in our larger, factory-new, Cessna Caravan EX seaplane. The scheduled service allows us to offer guests a high-end experience of a seaplane takeoff in Miami and a landing in Bimini at per-seat rates."
The amphibious Cessna Caravan EX aircraft has state of the art GPS navigation system, lush seats, and an air conditioning system ensuring that all guests travel in the utmost style and comfort. The EX aircraft offers a spacious interior, and a more powerful engine making the flight over to North Bimini in under 30 minutes.
Flying on a seaplane is a thrilling experience that will create long lasting memories. Guests will increase their time for activities and fun by bypassing lines at a large terminal and clearing customs quickly at the onsite customs facility. The nearest lodging option is Resorts World Bimini, however guests should not hesitate to rent a golf cart and explore the island. There is fine dining, shopping, exquisite fishing, diving, snorkeling, and much more.
The scheduled service will run up to four times per week and will launch prior to the Christmas holiday. Reservations can be made online or by phone on a price per seat rate. For further information, please visit http://www.flytropic.com
About Tropic Ocean Airways:
Founded in 2009 by Navy Topgun graduate, Rob Ceravolo, the FAA certified Tropic Ocean Airways provides scheduled flights between South Florida and The Bahamas. Additional services offered include private charter flights, cargo and freight services and direct to yacht provisioning services. The fleet of amphibious and wheeled aircraft are handled by highly experienced military aviators and seaplane instructors.
For Media Inquiries please contact media(at)flytropic(dot)com or 800 767 0897 ext 113
For General Information please contact our reservations team