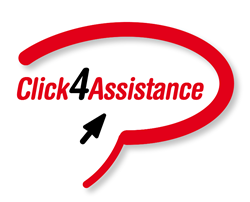 Click4Assistance strives to be at the forefront of technical development, we specialise in communications, together with partners we complete the picture for lead generation and sales conversions
(PRWEB UK) 17 December 2015
Click4Assistance have been providing a robust, feature rich Live Chat Solution to a range of industries and organisations for more than 10 years. A recent spike in enquiries from clients within the automotive arena identified a need for an 'all round' solution.
Initially a business partnership with UK contact centre Your Business Voice enabled provision of a fully managed chat service, with trained operatives able to handle incoming enquiries via live chat, for clients that need an outsourced solution.
Senior Account Manager at Click4Assistance, Jill Stephens stated:
"As a UK provider it was essential we work with a UK contact centre. Your Business Voice was an obvious choice due to their same commitment to exceptionally high levels of customer service. The agents at Your Business Voice quickly became experts in the software and I have every confidence when recommending their services for a fully outsourced contact solution."
Director at Your Business Voice, Robin Alderton commented:
"We have been working with the Click4assistance team for two years and have no hesitation in recommending our clients use their platform for live chat management. Our agents handle chats for various clients facilitated via the multi-company interface which is dynamic and highly flexible for individual client requirements. Their UK based team continuously demonstrate their expertise offering advice and guidance in this evolving customer engagement channel which complements our telephony and email capabilities."
Following this success Click4Assistance were pleased to welcome The Whole Caboodle, an innovative and experienced UK digital marketing agency, who have introduced unique strategies and solutions to increase traffic and enquiries, with a particular understanding of the motor industry
Gary Martin, Managing Director at Click4Assistance said:
"Click4Assistance strives to be at the forefront of technical development, we specialise in communications, together with partners we complete the picture for lead generation and sales conversions."
From website design and digital marketing services, through to cutting edge communications channels and expertly handled enquiries, the collaboration offers the full spectrum of services required to actively promote and support the motor industry.