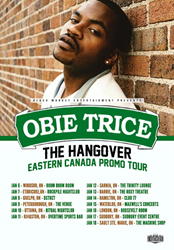 "I got nothing but love for Canada and my fans up in the Great White North," said Obie Trice. "One of the first places to embrace my music was Canada and any time I've been up there to do shows, the fans go crazy. I'm looking forward to getting back there
(PRWEB) December 09, 2015
Obie Trice Announces Canadian Tour
Detroit rapper Obie Trice has announced the dates for his Canadian headlining tour in support of his fourth studio album "The Hangover". The tour is set to kick off on January 6th, 2016 in Windsor, Ontario and run throughout the month.
"I got nothing but love for Canada and my fans up in the Great White North," said Obie Trice. "One of the first places to embrace my music was Canada and any time I've been up there to do shows, the fans go crazy. I'm looking forward to getting back there and kicking off 2016 in Canada with all my fans."
Formally a protégé of Eminem and signed to Eminem's label Shady Records where dropped his now classic debut album "Cheers" under the imprint featuring tracks with Busta Rhymes, Eminem, 50 Cent, Lloyd Banks, Dr. Dre, Nate Dogg, D12, Tony Yayo, and Timbaland. Trice has now set out to blaze his own trail by starting his own label Black Market Entertainment and further distinguished his own style on "The Hangover".
Obie Trice Tour Dates:
Jan 06 - Windsor, ON - Boom Boom Room
Jan 07 - Etobicoke,ON - Rockpile Nightclub
Jan 08 - Guelph, ON - Dstrct
Jan 09 - Peterborough, ON - The Venue
Jan 10 - Ottawa, ON - Ritual Nightclub
Jan 11 - Kingston, ON - Overtime Sports Bar
Jan 12 - Sarnia, ON - The Trinity Lounge
Jan 13 - Barrie, ON - The Roxy Theatre
Jan 14 - Hamilton, ON - Club 77
Jan 15 - Waterloo, ON - Maxwell's Music House
Jan 16 - London, ON - Roosevelt Room
Jan 17 - Sudbury, ON - Sudbury Event Centre
Jan 18 - Sault Ste. Marie, ON - The Machine Shop
###