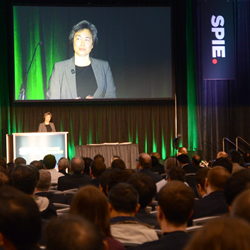 Participants from a wide range of sectors share and learn about state-of-the-art lithographic tools, resists, metrology, materials, etch, design, and process integration.
BELLINGHAM, Washington, USA (PRWEB) December 08, 2015
EUV lithography is on the threshold of becoming a mainstream patterning technology for sub-10-nm chips, featured speaker Anthony Yen of Taiwan Semiconductor Manufacturing Co. (TSMC) will tell fellow attendees at SPIE Advanced Lithography 2016.
SPIE Litho will run 21-25 February in the San Jose (California) Marriott and Convention Center, and is sponsored by SPIE, the international society for optics and photonics.
In its 41st year in 2016, the annual event provides a focal point for the development of micro- and nanolithography and related technologies. It brings together participants from a wide range of sectors to share and learn about state-of-the-art lithographic tools, resists, metrology, materials, etch, design, and process integration.
Yen, the director of TSMC's Nanopatterning Technology Infrastructure Division, is one of three leading semiconductor lithography researchers scheduled to give plenary talks on Monday of the conference week.
Harry Levinson, GlobalFoundries Senior Director of Technology Research and Senior Fellow, will review the evolution of lithographic technologies in his plenary talk, starting with the earliest simulation software through to EUV.
Richard Gottscho, Executive Vice President of Global Products at Lam Research Corporation, will discuss how to minimize process-induced variability in multiple patterning.
SPIE Litho will offer more than 500 presentations in seven conferences, two poster receptions, 15 technical professional development courses, a two-day exhibition showcasing leading suppliers for the industry, and the first-ever SPIE Litho all-symposium welcome reception.
Mircea Dusa, Fellow and scientist at ASML US, Inc., is symposium chair, and Bruce Smith, Director of Microsystems Engineering at Rochester Institute of Technology, is cochair.
Among other highlights are:

the 30th anniversary celebration for the Metrology, Inspection, and Process Control conference with a "Wheel of Fortune" game
awarding of the 2016 SPIE Frits Zernike Award for Microlithography
a panel discussion on fundamental technology challenges in metrology, lithography, and design as critical dimensions for integrated circuits shrink to near-atomic scales.
Companies in the exhibition on Tuesday and Wednesday will include Canon USA, Inc., Carl Zeiss SMS GmbH, JSR Micro, Inc., Swiss Litho AG, Synopsys, Inc., Tokyo Electron Limited, Zygo Corporation, and others, both well-established industry leaders and newer companies.
Accepted conference proceedings papers will be published in the SPIE Digital Library as soon as approved after the meeting, and in print volumes and digital collections.
Registration, hotel, and other information is at http://www.SPIE.org/AL.
About SPIE
SPIE is the international society for optics and photonics, an educational not-for-profit organization founded in 1955 to advance light-based science and technology. The Society serves nearly 264,000 constituents from approximately 166 countries, offering conferences and their published proceedings, continuing education, books, journals, and the SPIE Digital Library in support of interdisciplinary information exchange, professional networking, and patent precedent. In 2015, SPIE provided more than $5.2 million in support of education and outreach programs. SPIE is a Founding Partner of the International Year of Light and Light-based Technologies and a Founding Sponsor of the U.S. National Photonics Initiative. http://www.spie.org