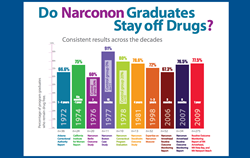 it is exciting to see how much is being accomplished by the people who are in the program now using the new Narconon treatment lineup.
Canadian, OK (PRWEB) December 09, 2015
Recently officials from the [Narconon Arrowhead drug and alcohol rehabilitation program unveiled a completely new approach to ending drug and alcohol addiction. According to Narconon Arrowhead spokesperson Robert Newman, "it is exciting to see how much is being accomplished by the people who are in the program now using the new Narconon treatment lineup."
The Narconon organization began helping drug addicted people in 1966 and bases its drug free rehabilitation method on the research and developments of American author and humanitarian L. Ron Hubbard who began studying the effects of drugs on the mind and body in the 1950's and continued his research for the next 30 years. As he developed practical remedies that resolved drug and alcohol addiction he made these discoveries available to the Narconon organization.
Narconon centers have monitored their treatment outcomes all over the world since the mid 1970's including some outcome studies done at the Narconon Arrowhead facility located in southeastern Oklahoma. While these studies demonstrate that the majority of program graduates found success in recovery at Narconon there were some individuals that had relapsed after completing the program. Narconon Centers around the world are always analyzing the successes of program participants in their care. Earlier this year, an overall analysis of program participants from every Narconon center was undertaken and from this analysis the new Narconon treatment approach was developed and is now being delivered at Narconon Arrowhead.
This new method takes an addict through a precise sequence of rehabilitation procedures that eliminates drug cravings, corrects addictive behavior patterns, rebuilds relationships and puts him back in full control of his life. A person graduates the Narconon Arrowhead program with a clear direction on how to maintain a sober and productive life style.
Narconon Arrowhead is located in Canadian, Oklahoma on the shores of beautiful Lake Eufaula. Narconon has been helping people overcome drug and alcohol addiction worldwide for nearly 50 years. Narconon Arrowhead has serviced over 11,000 people since being established in 1989 and is certified by the Oklahoma Department of Mental Health and Substance Abuse Services and accredited by the Commission on Accreditation of Rehabilitation Facilities. For more information about the new Narconon program visit our web site at http://www.narcononarrowhead.org or call an admissions coordinator at 800-468-6933.