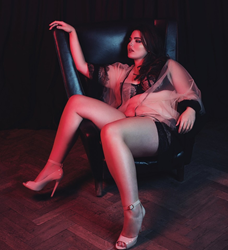 We love being able to photograph amazing lingerie stories with models that love their curves and have great confidence. Alessandra has all of this making her the perfect choice for this story." Rivkie Baum, SLiNK Magazine Editor-in-Chief
Los Angeles, CA (PRWEB) December 10, 2015
SLiNK Magazine, plus-size fashion and lifestyle magazine turns up the heat with an editorial story showcasing Alessandra Garcia.
Ms. Garcia is a NYU film graduate, blossoming plus-size model, and daughter to Cuban-American Actor and Director Andy Garcia. Represented by MiLK Management in London, Alessandra began to capture the attention of the fashion industry when she was recently featured in an editorial story for Vogue Italia. Now with the lingerie editorial spread in SLiNK Magazine, it is evident that Alessandra is finding her own kind of fame.
Editor in Chief of SLiNK Magazine, Rivkie Baum, commented that: "Alessandra is an absolute beauty. We love being able to photograph amazing lingerie stories with models that love their curves and have great confidence. Alessandra has all of this making her the perfect choice for this story."
Alessandra Garcia shared: "Modeling has been an incredible way to be proud of my body. The SLiNK Magazine photo-shoot allowed me to show my own confidence and that all women can be sexy!!"
SLiNK Magazine, available at select Barnes & Nobles stores and newsstands in 16 countries, is the only plus-size fashion magazine on the newsstands across the globe. To find a SLiNK Magazine retailer near you, visit SLiNKmagazine.com
For media interviews and/or enquires please contact:
Delia Douglas
DDHPR
Delia(at)ddhpr.com
424-272-0442
Rivkie Baum
SLiNK Magazine
Editor(at)slinkmagazine.com
07909-548-751
ABOUT – SLiNK MAGAZINE:
SLiNK Magazine is the leading printed plus size fashion magazine. Published privately, SLiNK is the concept of Editor in Chief, Rivkie Baum, SLiNK Magazine has been championing plus size fashion in print since 2011. For more information visit our website at SLiNKmagazine.com.
About – DDHPR:
DDHPR is a boutique marketing & public relations firm catering to an eclectic roster of fashion, beauty, curve, multicultural, non-profit and artist clients. For more information, please visit http://www.DDHPR.com.
***