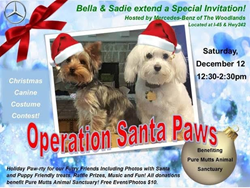 "Our dogs, who used to be known as 'man's best friend,' have become our outright families. And all of our children, human or canine, can use a visit to St. Nick." -- Bob Milner, Mercedes-Benz of The Woodlands
The Woodlands, Texas (PRWEB) December 10, 2015
Mercedes-Benz of The Woodlands general manager and co-owner Bob Milner knows that not all kids have only two legs.
"Our dogs, who used to be known as 'man's best friend,' have become our outright families," he said. "And all of our children, human or canine, can use a visit to St. Nick."
Due to his love of his own "pup-girls," Milner was inspired to create a special Yuletide event, Operation Santa Paws. This event will take place at the luxury auto retailer's location at 16917 Interstate 45 North, just north of Highway 242, on Saturday, December 12, from 12:30-2:30 p.m.
All members of the public and their canine companions are invited to attend the free event, which will include treats for dogs and humans, raffle drawings and a Christmas Canine Costume Contest. Additionally, for only $10, dogs can get their photos taken with Santa Claus while posing inside a red Mercedes convertible. The fun continues with a photo contest on Mercedes-Benz of The Woodlands' Facebook page, where participants can share their pictures.
"Not only does this event provide a day of fun, but it also provides funds and awareness to a worthy cause," said Milner. "We have chosen Pure Mutts Animal Sanctuary to benefit from the proceeds of Operation Santa Paws."
Pure Mutts Animal Sanctuary was founded by local pet lover and real estate expert Priyanka Johri to fill the need of providing special care for old, seriously sick and injured animals that ordinary shelters can't provide due to lack of resources. Pure Mutts serves as hospice for older and terminally ill animals, a long-term foster home for animals in long-term recovery, a vacation home for healthy animals, and a temporary home for puppies looking to be adopted into forever homes. It is a private sanctuary – as opposed to a public shelter – and does not receive any state or federal funding.
More information on Pure Mutts Animal Sanctuary can be obtained by calling 832-277-3577 or visiting http://www.puremuttsanimalsanctuary.com. Additional details about Operation Santa Paws can also be found on the event's Facebook page. More information on Mercedes-Benz of The Woodlands can be found by visiting the showroom at 16917 Interstate 45 North, calling 936-206-7500 or viewing the dealership's website at http://www.mbotw.com.