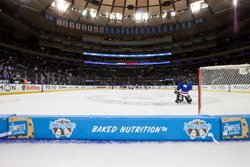 We are ecstatic about being connected with the World's Most Famous Arena."
Los Angeles, CA (PRWEB) December 11, 2015
Lenny & Larry's and Madison Square Garden announce marketing partnership.
Lenny & Larry's, maker of America's most popular high-protein snacks, has inked a marketing partnership with Madison Square Garden, home of the New York Rangers.
This deal coincides with the company's rapid growth on the Eastern Seaboard and in New York City, its second largest market.
"We are ecstatic about being connected with the World's Most Famous Arena," said Aaron Croutch, Vice President of Business & Legal Affairs. "This partnership will help promote our brand to the growing number of retail customers we now have throughout the East Coast."
As a Proud Partner of the New York Rangers, Lenny & Larry's will be the presenting partner of the New York Rangers Youth Hockey Program "Little Rangers", offer Rangers fans in-season giveaways, be an integral part of the Rangers Road Tour promotions throughout the Tri-state area and gain branded recognition on in-Arena LED and TV's throughout the Arena.
Lenny & Larry's popular Complete Cookie® flavors, Snickerdoodle and Chocolate Chip, will be sold at all Garden Market locations throughout the Arena during all events.
"Lenny and Larry's joins Madison Square Garden's unrivaled lineup of food options," said Ron Skotarczak, executive vice president, marketing partnerships, The Madison Square Garden Company. "Millions of individuals walk through the doors at Madison Square Garden every year to attend the variety of events we hold and we like to provide our fans with a variety of options to choose from including snacks as tasty and high in nutrition as Lenny and Larry's cookies."
Known for their wonderful taste and high nutrition products, Lenny & Larry's are industry leaders in baked nutrition. Their Complete Cookies® contain 16 grams of protein per 4 oz. Cookie and come in a variety of flavors which will now include three brand new flavors; Birthday Cake, Double Chocolate Peanut Butter Swirl and Coconut Chocolate Chip.
About Lenny & Larry's
Headquartered in Los Angeles, Lenny & Larry's sells high-protein snacks to people of all ages. Lenny & Larry's acclaimed products include: The Complete Cookie®, Muscle Brownie® and Muscle Muffin®. Lenny & Larry's Baked Nutrition products can be found across the entire country in gyms & fitness clubs, natural & health food stores, juice clubs, vitamin stores, grocery stores, convenience stores, colleges & universities and airports.
For more information visit Lenny & Larry's at http://www.lennylarry.com , like Lenny & Larry's at http://instagram.com/lennyandlarrys, and follow Lenny & Larry's at https://twitter.com/lennylarrys
About The Madison Square Garden Company
The Madison Square Garden Company (MSG) is a world leader in live sports and entertainment with a portfolio of legendary sports teams, exclusive entertainment productions and celebrated venues. MSG Sports owns and operates some of the most widely recognized sports franchises: the New York Knicks (NBA), the New York Rangers (NHL) and the New York Liberty (WNBA), along with two development league teams – the Westchester Knicks (NBADL) and the Hartford Wolf Pack (AHL). MSG Sports also presents a broad array of world-class sporting events, including: professional boxing, college basketball, tennis, bull riding and e-gaming events. MSG Entertainment features exclusive, original productions that include the Radio City Christmas Spectacular and the Rockettes New York Spectacular, both starring the Rockettes, and presents or hosts a wide variety of live entertainment offerings, including concerts, family shows and special events, in the Company's diverse collection of iconic venues. These venues are: New York's Madison Square Garden, The Theater at Madison Square Garden, Radio City Music Hall and Beacon Theatre; the Forum in Inglewood, California; The Chicago Theatre; and the Wang Theatre in Boston, MA. More information is available at
http://www.themadisonsquaregardencompany.com