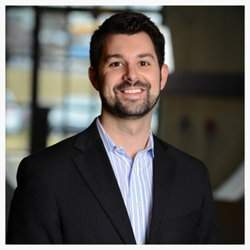 Sam is a proven leader, and he shares the entrepreneurial spirit with the partners and clients we serve. - Stuart McWhorter, CEO, Nashville Entrepreneur Center
Nashville, TN (PRWEB) December 10, 2015
Stuart McWhorter, CEO of the Nashville Entrepreneur Center (EC), today announced the appointment of Sam Lingo as President and Chief Operating Officer of the organization. In addition, McWhorter announced the promotions of John Murdock to VP of Entrepreneurial Development, Heather McBee to VP of Accelerator Programming, and Kelli Nowers to Community Director.
"Sam has been an essential part of the EC leadership from its very beginning," Mr. McWhorter said. "He is a proven leader, and he shares the entrepreneurial spirit with the partners and clients we serve. We have entered into an exciting new phase at the EC, one filled with growth and development. These promotions will continue to help us achieve the goals we have for the future of this dynamic organization."
Lingo was the EC's second hire and has served as Chief Operating Officer since July 1, 2011. His additional responsibilities as President are effective as of December 1, 2015.
As COO, Mr. Lingo has been the executive in charge of managing the EC's operations, finances, business development, and accelerator programs. Lingo led the project to fund and renovate one of Nashville's historic Trolley Barns into the EC's permanent home, historically restored and LEED Gold certified. The past four and a half years have seen a significant foundation laid for a dynamic future.
The past two years alone have seen partnerships with key Nashville business leaders, as well as with Google, Inc. Magazine, Steve Case and the Kauffman Foundation to name a few.
"Sam has played an important role at the EC, and it makes sense to have him in this critical leadership position as we move forward," said John R. Ingram, Chairman of the EC Board of Directors. "Sam brings the experience, the skills, and the dedication to our team that will put us right where we want to be. I'm excited about these additional promotions to enhance this important work for the future of our hometown – to serve the entrepreneurial ecosystem in Nashville."
"I'm incredibly honored and excited about my new role," Mr. Lingo said. "Being an entrepreneur myself and a native Nashvillian, the future of our entrepreneurial ecosystem is incredibly important to me. We've had great success as an organization and an entrepreneurial community over the past six years and I'm thankful for the risk our inaugural board of directors took on Michael and me. In addition, I believe the vision set forth by Stuart and our Board, the execution from our team and the continued support from our community of alumni, mentors, investors and partners will solidify Nashville as the best place in America for entrepreneurship."
Mr. Lingo is a Nashville native who has been recognized as a Top 30 Under 30 and one of Nashville's Emerging Leaders. He received his bachelor's degree in economics from Vanderbilt University and lives in Nashville with his wife, Briana.
ABOUT THE NASHVILLE ENTREPRENEUR CENTER
The EC, with offices at 41 Peabody Street in the Rutledge Hill area, was founded as an economic development initiative of the Nashville business community with a vision to become the best place in America for entrepreneurship. Its mission is to connect entrepreneurs with the critical resources to create, launch and grow businesses. The EC fosters innovation and entrepreneurship by helping to start businesses and create jobs. As a non-profit 501(c)3 organization, the Center is funded through sponsorships, partnerships, donations and grants. The EC relies on support from leading corporations, successful entrepreneurs and those who have a vested interest in the Center's success. For more information, visit our website at http://www.ec.co
Contact: Zach Hunt 615.321.3110 / zach(at)tsgnashville(dot)com