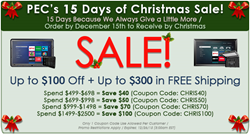 Christmas is a special but expensive time of year, so Protective Enclosures Company wants to help customers save money on outdoor TV cases.
Orlando, Fl. (PRWEB) December 11, 2015
Protective Enclosures Company (PEC) is offering jaw-dropping savings this holiday season on outdoor TV enclosures. Shoppers can save up to $100 on The TV Shield website during PEC's 15 Days of Christmas Sale (PEC's Christmas deals end 12/26/15 3:00am EST). Between huge discounts with qualifying coupon codes and notable free shipping values, outdoor living and consumer electronics shoppers can save hundreds on weatherproof LED TV cabinets during this holiday sale. Based on the record-breaking success of PEC's 2015 Black Friday & Cyber Monday sales, outdoor TV alternatives appear to be a popular Christmas gift in 2015, and sales are only expected to soar even higher.
These weatherproof TV enclosures are revolutionizing outdoor living by allowing families to gather on their patios around the TV for football games or TV shows. Having been featured on Lifetime Network's Hit Show: Designing Spaces, HGTV's Popular Show Spontaneous Construction, John Taffer's Bar Rescue and Animal Planet's Flipping Ships, PEC's weatherproof plasma TV cases are rarely offered at such discounted prices, much less just in time to be given as Christmas gifts. PEC's CEO, Justin King, remarked "Christmas is a special but expensive time of year, so Protective Enclosures Company wants to help customers save money on outdoor TV cases."
The TV Shield and The TV Shield PRO provide defense against rain, cold, heat, moisture, bugs, critters, dust, flying objects, tampering and theft. The TV Shield offers water-resistant TV protection outside; the lightweight weatherproof TV enclosure is made of durable HMWPE outdoor plastic at an affordable price. In addition to thermostatic fans which are included with most models and can be added to any model, the protective TV cases also feature louvered vents that have filters which help prevent heat buildup and bug intrusion. The TV Shield PRO® is a weatherproof, secure and robust protective outdoor LED TV enclosure with an anti-glare front shield, sizes up to an industry-first 80 inches and touch screen capability. Built with lightweight aluminum and steel, it is compatible with any standard indoor TV, powder-coated, and has numerous proprietary features (such as the ExactSeal™ proprietary triple sealing system).
PEC's enclosures protect TVs and video displays in over 9000 residential and commercial locations in 17+ countries worldwide. The company has an A+ rating with the BBB. PEC invites shoppers to learn more about this offer and take advantage of the exciting savings at http://www.thetvshield.com.

All PEC, The TV Shield®, The Display Shield®, The TV Shield PRO® and The TV Shield PRO Lite® logos and product names are owned by PEC. Other company and product names may be trademarks of their respective owner. PEC does not claim official endorsement of any named businesses.