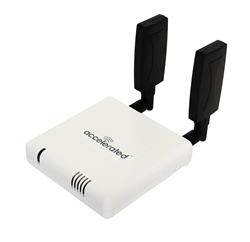 The 6300-CX will battle it out in the Battle of Platforms showcasing cellular LTE fixed wireless connections
Tampa, Florida (PRWEB) December 15, 2015
Accelerated announced today that it will be showcasing its next generation cellular router products at the IOT Evolution Conference & Expo, to be held January 25-28th, 2016, at the Greater Ft. Lauderdale/Broward County Convention Center in Fort Lauderdale, Florida. At IoT Evolution, attendees will learn how Internet of Things (IoT) technologies can be utilized to significantly improve business processes, minimize risk, spur innovation and drive revenue.
At the conference, Accelerated will be providing a live demonstration of their flagship 6300 Cellular Extender series of appliances including both the embedded CX and USB based LX models. In the "Battle of Platforms" competition on Monday the 25th, Tom Butts, CEO, will showcase primary cellular connectivity and cellular failover for IOT in an innovative application for connectivity through the cloud.
Jason Dorough will be taking attendees through a case study where Accelerated connectivity solutions are being used to connect remote locations to headquarters through the Internet.
Accelerated invites existing customers and prospective clients to come review its next generation releases of its connectivity and security appliances. Accelerated will be showcasing its 5301-DC Dial-to-IP™ Converter connectivity solution, its 6300-CX & LX cellular extenders, and its newly announced 5400-RM Out of Band Cellular Remote Manager appliance.
Tom Butts & Jason Dorough will be involved in a number of press interviews and analyst meetings and invite attendees to come visit booth 1808 in Hall C.
About Accelerated - Connected Is Everything™
Accelerated is an innovator in global cellular, cloud and network communications, and offers industry-leading hardware and software solutions that expand primary and failover data connectivity and management capabilities. Since the creation of its flagship product NetBridge in 2006, Accelerated continues to innovate its line of cellular hardware, network management software and virtual private network (VPN) technology. Accelerated offers a range of wireless WAN (WWAN) products including the 6300-CX and 6300-LX products ideal for retail locations or even Machine to Machine (M2M) and Internet of Things (IoT) environments. More advanced communication technologies such as its Dial-to-IP™ Converter and its 5400-RM Cellular Out-of-band (OOB) Remote Manager, a compact, high-performance, remote network management platform complement its cellular expertise. All Accelerated products can be centrally managed using Accelerated View™ cloud-based network management software. Accelerated is headquartered in Tampa, Florida, with offices in Chicago, Atlanta and Brisbane, Australia. For more information, visit: Accelerated.com.
About TMC
TMC is a global, integrated media company that supports clients' goals by building communities in print, online, and face to face. TMC publishes multiple magazines including Cloud Computing, IoT Evolution, Customer, and Internet Telephony. TMCnet is the leading source of news and articles for the communications and technology industries, and is read by 1.5 million unique visitors monthly. TMC produces a variety of trade events, including ITEXPO, the world's leading business technology event, as well as industry events: 2015 Connecticut Mobile Summit; Asterisk World; AstriCon; ChannelVision (CVx) Expo; DevCon5 - HTML5 & Mobile App Developer Conference; Drone Zone 360; IoT Evolution Conference & Expo; IoT Evolution Developers Conference; IoT Evolution Fog, Analytics & Data Conference; IoT Evolution Connected Transportation Conference; IoT Evolution Connected Home & Building Conference; SmartVoice Conference; SIP Trunking, Unified Communications & WebRTC Seminars; Wearable Tech Conference & Expo featuring Fitness and Sports Wearable Technology (FAST) Expo; WebRTC Conference & Expo; and more. Visit TMC Events for additional information.
About Crossfire Media
Crossfire Media is an integrated marketing company with a core focus on future trends in technology. We service communities of interest with conferences, tradeshows, webinars and newsletters. Crossfire Media has a partnership with Technology Marketing Corporation (TMC) to produce events and websites related to disruptive technologies. Crossfire Media is a division of Crossfire Consulting, a full service Information Technology company based in New York.