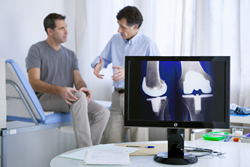 "The Comprehensive Care for Joint Replacement Model marks a new paradigm for Medicare in establishing a mandatory episode of care payment for lower extremity joint replacement surgeries, says Lisa Miller, MHA CEO of VIE Healthcare
Wall, New Jersey (PRWEB) December 15, 2015
"The Comprehensive Care for Joint Replacement Model marks a new paradigm for Medicare in establishing a mandatory episode of care payment for lower extremity joint replacement surgeries through the entire continuum of care and post-acute care management for 800 participant hospitals", says Lisa Miller, MHA, CEO of VIE Healthcare.
The CJR model holds participant hospitals financially accountable for the quality and cost of a CJR episode of care and incentivizes increased coordination of care among hospitals, physicians, and post-acute care providers. The episode of care begins with an admission to a participant hospital of a beneficiary who is ultimately discharged under MS-DRG 469 (Major joint replacement or reattachment of lower extremity with major complications or comorbidities) or 470 (Major joint replacement or reattachment of lower extremity without major complications or comorbidities) and ends 90 days post-discharge in order to cover the complete period of recovery for patients.
There are many new aspects of this bundled payment that exceeds the parameters of the current BPCI initiatives. Since the CJR model is effective January 1, 2016 and Medicare begins measurement on April 1, 2016 – hospitals must quickly and objectively assess their current state verse where they need to be in order to successfully manage to this new regulation. VIE Healthcare sees Year 1 as a tremendous opportunity for all hospitals in this model to receive a performance payment and share in the savings with collaborators.
"The goal of every hospital isn't just to get up to speed by April 1, 2016 – but to be ahead of the curve and have performance indicators and intervention strategies in place prior so that your organization is working in harmony to provide exceptional patient care in a value based environment", says Miller.
VIE Healthcare wants your hospital to be prepared for this new paradigm shift in accountability. VIE has developed CJR key success indicators and 8 components to build a successful CJR Infrastructure.
Join us on Tuesday December 22, 2016 at 3pm ET for a 30-minute experiential webinar where we will discuss:
1. Successful Total Knee and Total Hip Bundled Payment Case Examples.
2. Claims Data Analytics and Outlier Analysis.
3. Engaging Physicians in Bundled Payment Models.
4. The Two Quality Measures for the Composite Quality Score that links quality to payment.
5. Patient Journey MappingTM and how to gain valuable quality and financial insights from your patients.
6. Predictive Analytics to identify high risk and high costs patients and patients who will give a lower patient satisfaction survey score.
7. Infusing telehealth and innovation into all aspects of CJR.
8. CJR Collaborator agreements, performance-based payments and internal cost savings payment strategies.
9. Allowable patient engagement incentives which supports your patients care plan and recovery.
10. Getting the most from CMS data sharing so that your hospital can evaluate practice patterns, redesign care delivery pathways and improve care coordination.
11. Communicating the CJR model to your entire hospital—and what this matters.
12. Objectively assessing your current state and how to determine your areas of weakness and a strategic plan to close this gap.
You are invited to attend VIE Healthcare's fast passed 30-minute complementary experiential webinar filled with proven expertise and real case examples on December 22, 2016 at 3pm ET with leading clinicians and healthcare experts who will provide proven insights and innovative ideas to support your success in CJR.
Register now and reserve your place for VIE's CJR Webinar.
https://event.on24.com/eventRegistration/EventLobbyServlet?target=registration.jsp&eventid=1106803&sessionid=1&key=ACBF769FA11C1611449DC586C1ACD8B1&sourcepage=register
For over 16 years, VIE Healthcare's Mission, Is Providing Clincial and Healthcare Business Expertise To Hospitals So Hospitals Can Provide Exceptional Patient Care. VIE has a unique combination of Physicians, Nurses and Healthcare Business Experts who are process improvement experts and who provide their proven, hands-on expertise and innovation into every engagement . We have a specialization in bundled payment program implementation and orthopedic and post-acute care management cost reduction.