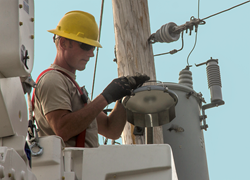 "Offering a 50% reduction in backlighting and a 25% amplified forward output, the shield is just one more option AreaMax owners can exercise to achieve optimal efficiency."
Renton, WA (PRWEB) December 15, 2015
Evluma announces the release of a new shield accessory for the AreaMax line of LED Street and Area luminaires. The AreaMax Light Trespass Shield is an attractive way to shape light by directing and reflecting light only where you want it.
The shield may be placed in one of three positions to reduce glare or prevent light trespass. Placed to the back of the AreaMax, the shield is a typical house-side shield when operating AreaMax on residential streets. Choose 90° left, or 90° right-side shield placements to address specific environmental lighting requirements. The AreaMax has a Type V, or round, light pattern.
"Approximately 40° of designated backlight can be redirected into task areas when using the Light Trespass Shield," said VP of Engineering Don Vendetti. "Offering a 50% reduction in backlighting and a 25% amplified forward output, the shield is just one more option AreaMax owners can exercise to achieve optimal efficiency."
Evluma offers two lens configurations: a dark-sky friendly (U0) optic with no light emitted above 90°, and a standard dome lens (U2) which emits less than 1% up-light. Bluetooth dimming, activated with ConnectLED, can also be used to tailor AreaMax light output.
Wirelessly connect and control an AreaMax then snap on a light shield at TechAdvantage February 15-18, 2016, New Orleans, LA. Booth #1419