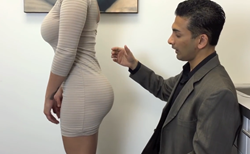 Beverly Hills, CA (PRWEB) December 15, 2015
With 2016 just weeks away Dr. Dennis Dass reports that demand for the Brazilian Butt Lift has never been stronger at his Beverly Hills office. "We are booked well into January, and if anything demand is only increasing," says Dr. Dass, a board certified plastic surgeon who specializes in the buttock augmentation procedure using fat transfer.
"We are seeing women of all ages who are interested in improving their body contours," says Dr. Dass. "Some wish to 'go large', but most patients just want to improve the contours of their buttocks so they may look better in street clothes or a bikini. Our advanced techniques for the Brazilian Butt Lift emphasize a natural look and long-lasting results. Unwanted fat is taken from other areas of the body and used to add volume and projection of the buttocks."
Dr. Dass says viewership on his YouTube channel, "Dennis Dass" has jumped by 800% within a few months since he started to add regular updates on real patient's stories and their results with the Brazilian Butt Lift. "Women love to see an actual patient's experience and view the results of her procedure," says Dr. Dass.
One of the most popular videos added to the channel, "Brazilian Butt Lift Results Shown By Beverly Hills Plastic Surgeon Must See!" shows patient "Kirsten" as she visits Dr. Dass for her consultation. Next, Kirsten & Dr. Dass show her beautiful results 11 weeks after having her procedure, with Kirsten wearing a bikini. View the video here: https://youtu.be/g48GckUJR4s
Dr. Dass says that Kirsten's's results are typical of the excellent results that can be achieved with a Brazilian Butt Lift. For more information on the Brazilian Butt Lift by Dr. Dennis Dass in Beverly Hills, CA visit http://www.DassMD.com and call 310-878-4800.