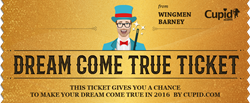 Cupid.com wants to reward members during the holidays by granting their wish and to make their dreams come true in the coming year."
Los Angeles, CA (PRWEB) December 16, 2015
Cupid.com, a leader in online dating, is ringing in the holidays with a contest to encourage new registrants and existing members to explore all features of the website. This December 24-26, people will be encouraged to peruse the entire Cupid.com domain for "Dream-Come-True" tickets, qualifying them for a final drawing. Winners of the contest will be announced during a live stream announcement December 27th on the site. Full details and contest entry rules can be found at Cupid.com.
Take In The Site
According to Cupid.com spokesperson Anastasia Iarkova, the contest has several objectives. "Members can search and see all that Cupid.com offers," says Iarkova. "What better way than to hide Dream-Come-True tickets from Wingman Barney everywhere on the site. Cupid.com wants to reward customers during the holidays by granting their wish and to make their dreams come true in the coming year."
Dream-Come-True Tickets
During the three day holiday period (December 24-26), Cupid.com will hide 1,000 Dream-Come-True tickets in different sections of the website. Upon finding and clicking on the "ticket", a user will be automatically entered into a drawing, being instantly queried for their email address, phone number and a wish to be granted. The twelve winners will be announced via a live stream on Cupid.com December 27th with dreams coming true into the New Year (each month of 2016 a wish will be granted). Each user can only redeem one ticket for the final drawing.
About Cupid.com
Cupid.com is more than a dating site. It's the choice for millions of singles who are looking for love. This is the online spot where people can find romantic connections and turn them into lasting and meaningful relationships. A loving atmosphere, a friendly community of singles with the same dating goals and interests, plenty of fun activities and useful website tools - everything to enjoy online dating.
About NSI Holdings, Ltd.
NSI Holdings offers a complete suite of B2C services. Our rich, extensive capabilities, across multiple platforms including web, mobile and apps allow users to quickly and easily discover, meet and date people who share common interests and lifestyles. We believe relationships lead to a richer, fuller life. NSI Holdings online dating sites now comprise over 110 million members, spanning 50 countries and 20 languages.
Everything we do is inspired by our customers. We are working hard to better understand the social and dating interests of our users. This allows us to focus on specific needs, providing customers with advanced online dating technologies and industry best practices.