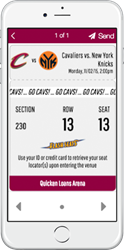 Pogoseat's innovative seat upgrade technology, coupled with their hungry, customer-first team, made the decision an easy one when we were ready to introduce upgrade technology to our fans
Los Angeles, CA (PRWEB) December 18, 2015
Pogoseat has partnered with the Cleveland Cavaliers to offer game day seat upgrades, made available primarily through recently released ticket inventory, as an exclusive benefit to the team's Wine & Gold United members for the opportunity to get closer to the action on the court.
AXS|Veritix, together with the Cavs, are providing Wine & Gold United Members with the opportunity to upgrade their seats via the Cavs mobile app. Once they click the 'Upgrade' option they will log into their Veritix Flash Seats account, select the seats they want to upgrade and then select their new seats using an interactive digital map of Quicken Loans Arena. Flash Seats then processes the transaction of exchange and delivery, and credits the price of the member's original seats toward the purchase of their new seats.
"The Cavaliers are excited to partner with Pogoseat to bring our fans yet another unique, digital-based platform aimed at improving the fan experience," said Michael Conley, Vice President of Digital at the Cavaliers. "Pogoseat's innovative seat upgrade technology, coupled with their hungry, customer-first team, made the decision an easy one when we were ready to introduce upgrade technology to our fans."
Pogoseat has also launched upgrades with the University of Utah. Fans with paper tickets and Flash Seats tickets will be able to upgrade before and during games, just as they are across town at Utah Jazz games. Pogoseat enters its second season partnered with the Jazz this year.
Pogoseat has extended its international reach by partnering with the British Basketball League, the premier basketball league in the United Kingdom. BBL teams will use the Pogoseat client dashboard to create and manage VIP experiential upgrades that they will offer to their fans before and during games. The BBL has 12 teams that play 33 regular-season games, ranging from September through April.