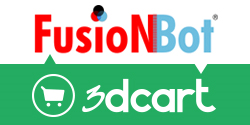 "We're very excited to have partnered with 3dcart," said FusionBot's John Sortino. "Our collaboration will provide 3dcart's growing community with a powerful and effective means for acquiring information quickly and precisely."
Tamarac, FL (PRWEB) December 22, 2015
3dcart, the leading all-in-one eCommerce solution, today announced a partnership with FusionBot to improve the Support Portal for 3dcart's 17k+ merchants.
Visited by thousands of users everyday, the 3dcart Support Portal boasts one of the largest eCommerce databases, providing invaluable tutorials and guides for new and veteran merchants alike. With their new partnership, portal users can now search and locate information faster and easier than ever before, with improved search precision that utilizes powerful ranking algorithms, delivering millisecond response times.
FusionBot is a renowned search tool used by businesses of every size and industry, connecting users with the most relevant items regardless of spelling or keywords used. Merchants that have successfully incorporated FusionBot include Coca-Cola Enterprises, American Electric Power, and DCU Credit Union.
"Our extensive and expanding Support Portal is the first resource retailers turn to when looking for information," said 3dcart's COO Jimmy Rodriguez. "Over the years, our database has proven itself key to the everyday and long-term success of our merchants, aiding in matters both simple and complex."
"We're very excited to have partnered with 3dcart," said FusionBot's John Sortino. "Our collaboration will provide 3dcart's growing community with a powerful and effective means for acquiring information quickly and precisely."
Merchants interested in adding FusionBot to their online stores can visit the 3dcart app store.
To find out more about 3dcart's Technical Support, visit 3dcart.com.
About 3dcart
3dcart (http://www.3dcart.com), located in Tamarac, Florida, is an All-in-One eCommerce solution for retailers to build, promote and grow their online stores. 3dcart's services include the best Technical Support in the industry, 100+ Mobile-Ready Themes featuring the latest technology, order management software, blog, email marketing tools and more. Since 1997, the company has been a leader in the eCommerce market, building online stores for businesses of all sizes. Today, 3dcart supports over 17,000 retailers, is Visa PCI Certified and a Google Certified Partner.