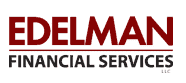 Fairfax, VA. (PRWEB) December 22, 2015
Edelman Financial Services, one of the nation's largest independent financial planning and investment management firms,(1) today announced it is further broadening the extensive global diversification of the Edelman Managed Asset Program® (EMAP) by adding the SPDR® S&P North American Natural Resources ETF (symbol: NANR) to most of its client portfolios.
State Street Global Advisors, a global asset management firm and creator of SPDR ETFs, introduced the ETF in part to reflect Edelman's concern that other natural resource funds tend to be more heavily weighted in oil stocks than desired. NANR seeks to track the performance of the S&P BMI North American Natural Resources Index, which is designed to provide broader exposure to natural resources stocks than investing solely in oil stocks. It allocates 45% to energy, 35% to materials and 20% to agriculture. NANR has a 0.35% expense ratio, which makes it one of the lowest-cost natural resource funds available.
"Recognizing the need for a new approach to natural resources investing and being able to influence a leading ETF provider to create a targeted solution demonstrates our commitment to meeting our clients' ongoing investment needs," said Edelman Financial Chairman and CEO Ric Edelman. He was also the inspiration for a new ETF, introduced earlier this year, that invests in developers and users of exponential technologies. "We do not take investment changes in EMAP lightly or make them frequently, and we are convinced that NANR offers our clients many potential benefits, including an expected decrease in volatility, lower portfolio expenses and greater diversification than previously existed. We are convinced that adding this investment to EMAP is in our clients' best interests."
Edelman added that, "We do not receive any fees, soft dollars or other form of compensation from State Street. Our sole source of compensation for our investment management services is the annual fee that we receive from our clients."
About Edelman Financial Services
Edelman Financial Services provides financial planning and investment management services to more than 29,000 individuals and families and manages more than $15 billion in assets.(2) The firm, which also provides 401(k) plans and institutional investment management for businesses, has won more than 100 financial, business, community and philanthropic awards.(3) For investment advice and financial planning services, call 888-PLAN-RIC (888-752-6742) or visit RicEdelman.com.
###
Ric Edelman, Chairman and CEO of Edelman Financial Services LLC, a Registered Investment Advisor, is an Investment Advisor Representative who offers advisory services through EFS and is a Registered Principal of and offers securities through SMH. Advisory Services offered through Edelman Financial Services LLC. Securities offered through Sanders Morris Harris LLC., an affiliated broker/dealer, member FINRA/SIPC.
(1) WealthManagement.com's "Top 100 RIAs of 2015" ranking was assembled using data from Meridian-IQ. Advisory firms are ranked by total assets under management. To land on the list, firms had to have a focus on financial and retirement planning for individual and high-net-worth clients. And institutional clients do not make up a substantial portion of their businesses. Finally, none of these firms are owned by a bank, broker/dealer or investment company. Edelman Financial Services Ranked 3rd.
(2) As of November 30, 2015
(3) Throughout the firm's 28 year history, EFS and Ric Edelman have been presented with more than 100 business, advisory, communication and community service awards. A complete list of awards won can be requested by contacting the firm at (888)-PLAN-RIC.