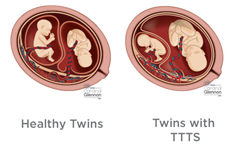 "We cannot stress enough the importance of moms having an ultrasound early in their pregnancy." -Mike Vlastos, MD
St. Louis, MO (PRWEB) December 18, 2015
Are the twins identical and is there one placenta or two? These simple questions could give parents the key to the information they need to save the lives of their twins before they are born. As part of twin to twin transfusion syndrome (TTTS) awareness month, the SSM Health St. Louis Fetal Care Institute is educating families about these questions, and the importance of frequent ultrasounds for mothers pregnant with multiples.
"We cannot stress enough the importance of moms having an ultrasound early in their pregnancy to identify multiples and then to determine whether there is one placenta or two. If they are pregnant with identical twins who share a placenta, they need to be closely monitored for TTTS," says Fetal Care Institute Director and SLUCare Maternal-Fetal Medicine Specialist Mike Vlastos, MD.
TTTS is a prenatal condition in which twins share unequal amounts of the placenta's blood supply, resulting in the babies growing at different rates. TTTS impacts the twins' blood flow and can be deadly to both babies. Around 70% of identical twins share a placenta and 10-20% of these pregnancies are affected by TTTS.
"TTTS can develop rapidly, which is why it is so important for these moms to know the warning signs and to have an ultrasound every two weeks from the time their pregnancy reaches 16 weeks," says Vlastos.
Warning signs for TTTS include a sudden increase in the mother's weight, hand and leg swelling early in pregnancy, abdominal pain or tightness and uterine contractions.
Using minimally invasive fetal laser surgery, doctors can stop the negative impacts of TTTS while the babies are still in the womb. The St. Louis Fetal Care Institute is one of the few fetal care centers in the United States to offer this procedure.
During the surgery, a laser is used to block the shared blood vessels. The surgeon inserts a pencil-tip-sized telescope in the mother's uterus and examines the entire placenta to find the connected blood vessels. Once these are all mapped, a tiny laser fiber is inserted and laser energy is used to stop the blood flow between the twins.
"With education, frequent monitoring and early detection we can save the lives of babies who develop TTTS," says Vlastos.
###
About the SSM Health St. Louis Fetal Care Institute
The SSM Health St. Louis Fetal Care Institute is a partnership between SSM Health Cardinal Glennon Children's Hospital, SSM Health St. Mary's Hospital-St. Louis and Saint Louis University School of Medicine. Bringing together renowned maternal fetal medicine (MFM) specialists, pediatric and fetal surgeons, specialized nurses, cutting-edge technology, and a family-oriented approach, the St. Louis Fetal Care Institute offers state-of-the-art diagnostic methods and treatment options for families whose unborn babies are facing medical challenges. It is one of the nation's leading comprehensive fetal care programs, offering a variety of fetal interventions and treatments, including open and minimally invasive fetal surgery for babies in the womb.