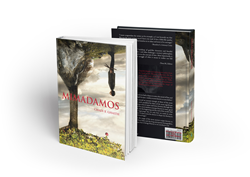 I am just an ordinary person trying to express a very non-ordinary logic that is far beyond regular esotericism. I have promised myself to humbly live to tell the great story I am telling today
Atlanta, GA (PRWEB) December 21, 2015
Lebanese author Chadi B. Ghaith is attempting to introduce readers to a new way of thinking—or an old way—in his new book, Mimadamos.
Setting the story within a mythological world, Ghaith creates human manifestations of Destiny, Fate, Space, and Time, allowing readers to explore the journeys of these characters as they progress through their own philosophical battles.
"I am just an ordinary person trying to express a very non-ordinary logic that is far beyond regular esotericism. I have promised myself to humbly live to tell the great story I am telling today," shares Chadi.
Mimadamos revolves around an ancient triangle of three of the most significant characters on earth, paralleled by three of the most significant forces in life, and their unique story in space and time. As readers journey through this fable they will explore some of the most timeless concepts known to man: good and evil, heaven and hell, and the beginning and the end of the world.
Mimadamos is available now through Amazon.com and Mimadamos.com.