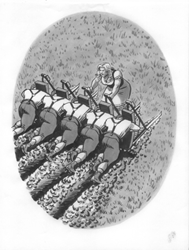 Chicago, IL (PRWEB) December 18, 2015
The Cheesehead Bible by Art Starr shares the gospel according to Green Bay Packers fans, the stirring saga of the burly people of Wisconsin who turn war into ritual - told in biblical proportions.
This unique and distinctive book appeals to all who ascribe to or are fascinated by the unique phenomenon of cheesehead culture. In perfect shades of green and gold, it's is an easy, fun and family friendly read of 120 pages with 44 illustrations. From its biblical-looking cover font (Papyrus, of course) to the authors' pseudonymic nod to the Pack's legendary #15, the book tells the unapologetic history of the people who created the only fan-owned team in the NFL.
The Cheesehead Bible is simultaneously irreverent and respectful as it tackles the legends of Lambeau, the truth about Titletown, and reveals why Vince Lombardi's name is emblazoned on the Super Bowl Trophy. Set in the fabled land of brats and cheese it's a penetrating account of the origins of civilized combat.
The Cheesehead Bible's epic themes include:

Cheesehead sin and redemption
The miracle of the humble enclave that became Titletown
The centrality of Vince Lombardi's faith to the success of the Packers
Curly Lambeau's contribution, glory and fall from grace
Why it's important to keep the Packers in Green Bay
The glory and pride of being a cheesehead
Art Starr, the author of record, is the pen name for identical twins Pat and Terry Baker, writer and editor of The Cheesehead Bible. Retired advertising art directors with careers spanning over 30 years, Pat honed his talents at Leo Burnett and as a freelance storyboard artist, while Terry served at Foote Cone and Belding and Leo Burnett.
The twins are lifelong Chicago Bears fans who credit their brief college gridiron careers to their lack of speed and shortness of stature, which earned them each several severe beatings at the hands of real football players. Their love of the game survived, and after discovering the miraculous history of the Green Bay Packers and realizing the deeper meaning of American football, they have also become Packer fans and wanna-be cheeseheads.
The Cheesehead Bible is available at Amazon.