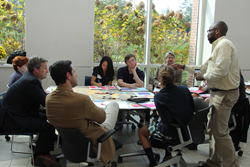 What if we blurred the lines between "school " and "the real world?"
Atlanta, GA (PRWEB) December 23, 2015
A recent Council on Innovation (COI) hosted by Mount Vernon Presbyterian School (MVPS), explored the theme of Disruptive Curiosity. For a full day, Council on Innovation members focused on the theme with students, faculty, and leadership. Such perspective and partnership enhance Mount Vernon's capacity to develop learners who engage in real-life challenges.
The 2015 Council on Innovation included business leaders from Google, Coca-Cola, AT&T, Cox Communications, Piedmont Healthcare, Georgia Tech, Emory University and many other organizations vital to metro Atlanta.
Anya Smith-Roman, Class of 2017 (Innovation Diploma Student) says working with business leaders made her even more excited for the day when there is no difference between "school" and the "real world". "It is just the norm for businesses and students to be working alongside each other, to not only learn, but also to positively affect the world around them," Anya says. "I hope the council members walked away from Friday feeling that this future isn't impossible."
Russell Dalba, President & CEO Quick-Med, Inc dba ExamOne shares, "Through COI, Mount Vernon is connecting with the community and business leaders to share ideas and offer solutions. I was truly inspired by the students and faculty who demonstrate such a passion for design thinking. Their creativity guided me to look at things from a completely different perspective."
Patty Tucker, Executive Vice President Edelman, emphasizes business and education -- and society as a whole – have to carefully, consciously evolve how we educate our future leaders. "Mount Vernon is carving an exciting yet pragmatic path into this uncharted territory. The Council on Innovation convenes the School's bright minds and design thinking approach with immediate business and higher education thinkers, resulting in ideas we can conceive, test and build on for the dynamic journey ahead."
Jeannie Tarkenton, Founder & CEO FundingU, attests the COI experience was incredibly energizing and thought-provoking. "I have already applied insights from students, staff and fellow council members to my growing business. A great reminder of how strong and interdisciplinary the MVPS approach to learning is."
As one of the leading private schools in Atlanta, Mount Vernon Presbyterian School is focused on providing its students with the opportunity to work and think in real world situations. The Council on Innovation has quickly become a popular annual event. In its first year, the 2013 Council on Innovation focused on the theme of Global Competitiveness, and consequently influenced the creation of Mount Vernon's Innovation Diploma Program. Council Members in 2014 delved into the topic of Creative Impact. The experience made a profound impact through the School's Experts in Residence Program, the Upper School iProject, and on Fuse, the School's summer design thinking conference.
Click to download COI 2015 Program
Photo ID for Council on Innovation 2015 photo (located in folder link above)
Back Row L-R: Wayne Li (Georgia Tech), Kevin Brown (Piedmont Healthcare), Emily Soelberg (AT&T), Todd House (Fleetcor), Jeff Garrision (S.J. Collins Enterprises), Russell Dalba (Quick-Med, Inc dba, ExamOne), Patty Tucker (Edelman), Hetal Gordon (Google), Carl Insel (First Citizens Bank)
Front Row L-R: Dennis Castenfelt (DC Medical), Mallard Holliday (Cox Enterprises), Charisse Williams (Charisse M. Williams Consulting), Regina Maddox (Next Generation Manufacturing), Jeff Mills (Enterprise Holdings), Gabriel Sterling (Sandy Springs Councilman), Hank Klibanoff (Emory University), Jeannie Tarkenton (Funding U)
Not pictured: Carlos Herrera (Coca-Cola), Kappy deButts (Zeist Foundation), Stuart Sherrill (Steelfab, Inc.)