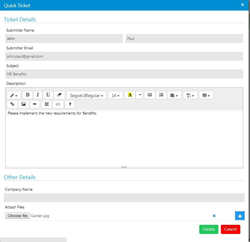 Los Altos, CA (PRWEB) December 22, 2015
The new update includes integration with SutiWProcure, a new user interface, and automatic report generation options.
Reports
The system automatically generates reports based on pending tickets and submits them to the appropriate users. The report provides a quick glance on pending tickets allowing necessary action.
User Interface
The user interface has been completely redesigned with a new responsive design that improves usability, improves navigation and enhances the user experience.
Integration
SutiDesk has been integrated with SutiWProcure, SutiSoft's wireless procurement solution. SutiWProcure users can create and view support tickets from SutiWProcure.
For additional product information, please visit http://www.sutisoft.com/sutidesk or call us at 1.650.969-7884, e-mail: media(at)sutisoft(dot)com.
About SutiSoft
Sutisoft provides a comprehensive suite of cloud-based business platforms and solutions for companies of all sizes. These platforms include scalable and easy-to-use solutions for HR, Employee Travel & Expense, Wireless Spend Management, CRM, Document Management, Business Data Analytics, and Electronic signature. Our platforms and solutions enable small, mid-size, and large enterprise customers to control costs, save time, and assist in making smart business decisions. Headquartered in Los Altos, California, SutiSoft also has regional offices in Germany, India, and Japan. For additional information, visit our web site at http://www.sutisoft.com.