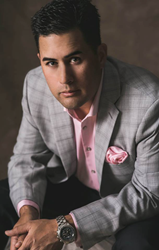 Our Association needs the next generation of Financial Consultants to be leaders of the future."...IARFC Chairman, H. Stephen Bailey
Middletown (PRWEB) December 21, 2015
The International Association of Registered Financial Consultants (IARFC) reports the reelection of current Vice Chairman Nicholas Royer, RFC® to its Board of Directors. Royer of Group 10 Financial, LLC. with offices in Florida, Ohio and Illinois, starts his second 3-year-term in March, 2016.
"I am honored to have been re-elected to the IARFC Board of Directors by my peers," said Royer. "Over the past couple of years it has been exciting to be part of the tremendous growth and success of the IARFC and the thousands of Registered Financial Consultants who carry the RFC® designation worldwide."
A second-generation financial professional, Royer cohosts the On the Money with Jerry and Nick Royer radio broadcast with his father Jerry Royer. He appears on NBC and ABC as a financial TV analyst, commentator, and trusted financial advisor. As a keynote speaker, Nick presents at many professional conferences educating professionals, financial advisors, business owners and retirees on strategies to take their finances and success to the next level. He is a judge in the National Financial Plan Competition and is slated to emcee the next competition April 21 in Charlotte, NC. As an author of countless financial articles, he writes regularly for the Register, the IARFC industry publication. Other recognitions include Top Leader Under 40 Year Olds and a 5-Star Professional Wealth Manager Award for 2014.
Royer continues to support the IARFC movement to 3rd party accreditation. Rolling out the Master Registered Financial Consultant (MRFC) exam is the next step for the proposed designation. The Board expects to offer this accredited option to those who look for a way to stand out amongst their peers. Being a MASTER RFC will signify a high level of integrity and experience to the general public. "The future of the IARFC will be even more exhilarating with the new Master Registered Financial Consultant designation," continues Royer. "I believe this will usher in a new era for the IARFC and its members who will be recognized as the premier financial advisors in their field."
IARFC Board Chairman H. Stephen Bailey remarks at the importance of having Nick return to the Board. "We are extremely pleased that Nick will be part of us for another term," commented Bailey. "Our Association needs the next generation of Financial Consultants to be leaders of the future."
The IARFC has been promoting its mission for over 30 years. Most important to their stakeholders is an adherence to and promotion of ethical behavior. For members, it is focusing on continuing professional education. For information on becoming a member of the IARFC or taking the MRFC exam, visit http://www.iarfc.org or http://www.pathtomrfc.org.