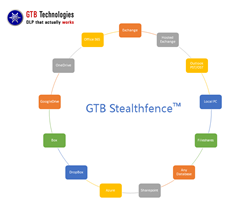 Our solutions are not hampered by false positives
Newport Beach, CA (PRWEB) December 22, 2015
This week GTB Technologies, Inc. the leading Independent Data Protection Company, announced the availability of new innovations across their Enterprise DLP, Data Discovery & Cyber Security platforms.
GTB's latest release has new features that will help GTB's Enterprise DLP and Data Discovery customers, MSPs and partners run responsive, intelligent cybersecurity functions to improve business collaboration, security and continuity on premises and off premises including the cloud.
"The latest GTB #dlpthatworks release continues our long history of disruptive innovations and offers to our customers, partners, MSPs and OEMs a responsive cybersecurity platform that enables organizations to control their most complex challenges from the cloud, advanced threats, Big Data, mobility and IoT," said Wendy Cohen , General Manager of GTB's Global Cloud Practice.
"Our solutions are not hampered by false positives, this release is another major milestone for the GTB DLP that Works platform, delivering additional noteworthy innovations that provide unparalleled speed, channel coverage and detection accuracy while enabling organizations to permit collaboration for a global workforce," continued Ms. Cohen.
Some of GTB's innovative release enhancements include:

Full hands off management for on-premises and off-premise locations
Enhanced printing controls to permit content inspection of print jobs (both local & network printing)
Further support for native cloud data protection & cloud application control
OCR detection and redaction for Data at Rest
OCR detection and redaction for Data in Motion
Endpoint Protection for Mac & Linux OS
As part of this major release GTB also unveiled its upgraded GTB Inspector for MSPs, the world's first cloud-native, enterprise data loss prevention platform, that provides a management system which is virtually hands off for both on-premises, off-premises and for the cloud.
End users looking to try GTB's #dlpthatworks solutions can obtain an evaluation license at http://www.gtbtechnologies.com/en/downloads
About GTB Technologies Inc.:
GTB Technologies Cybersecurity and Enterprise DLP solutions enable its customers to allow the flowing of ideas and collaboration from within the enterprise, through the cloud and social media; with the comfort that their sensitive, confidential data remains just that … Confidential.
GTB's hybrid offering (cloud service & on-premises solutions) enable operations teams to manage policies from a single console in both directions (cloud to on-premise and on-premise to the cloud) with added discovery for cloud applications that are either sanctioned or unsanctioned (BYOC).
GTB Advanced Enterprise DLP, Data Discovery & Cybersecurity products actually work and are the only Data Protection solutions which can:
perform Real-Time Data Classification on Data at Rest & Data in Motion while automatically enforcing data security policies
Off-Premise Fingerprint detection, no need to "phone home" (no one else can)
support & fingerprint (the most precise detection engine) Multi Terra Bytes of data without "choking" or network degradation
perform partial file match on Binary data such as Audio, Video, Executable, etc. regardless of file size.
provide coverage for all 65,000+ channels
controls Wireless (WiFi, Bluetooth), SSL without a proxy, Encrypted data, POS, Social Media, Email and Applications such as SKYPE, Dropbox & more; both on premise, off premise and in the cloud