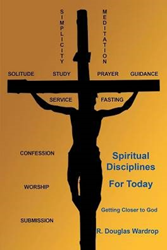 "We are proud to announce the release of this religious guide that will bring about better understanding regarding the essence of spirituality." - Robert Fletcher, CEO of Strategic Book Publishing and Rights Agency
(PRWEB) December 28, 2015
"At salvation, spirit is renewed, but soul and body are not changed."
According to the author, "Spiritual Disciplines" are given to mankind by God. They provide a way of sowing to the Spirit and they help put off the "old man" and put on the "new man" (see Ephesians 4:22-24). By doing this, man "renews" his soul so it will agree with his renewed spirit. As the saying "means to an end" goes, the "Spiritual Disciplines" are the "means," while the "end" refers to intimacy with God.
He believes that by exercising the "Spiritual Disciplines," Christians are helped to mature spiritually and are put in a place where God can work within to transform them. If people truly want to walk with God, they will exercise the Spiritual Disciplines.
"Spiritual Disciplines" are for everyone to use and should be a natural part of a Christian's life, as natural as breathing, according to R. Douglas Wardrop.
In this book, the 11 main "Spiritual Disciplines" – Meditation, Prayer, Fasting, Study, Simplicity, Submission, Confession, Solitude, Service, Guidance, and Worship – are described as well as how to apply them in today's world.
The author's first two books are "A Young Person's Guide to Christianity" and "A Christian Understanding of Deception – Gaining an Appreciation of How satan Uses Deception."
"We are proud to announce the release of this religious guide that will bring about better understanding regarding the essence of spirituality," said Robert Fletcher, CEO of Strategic Book Publishing and Rights Agency.
Watch the video at: https://youtu.be/3lN6u_x1mG8
SPIRITUAL DISCIPLINES FOR TODAY: GETTING CLOSER TO GOD (ISBN: 978-1-63135-664-3) is now available for $19.50 and can be ordered through the publisher's website:
http://sbprabooks.com/RDouglasWardrop or at Amazon.com or Barnesandnoble.com.