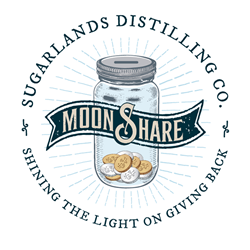 We had over 300 deserving organizations apply for the program this year, and it was not easy narrowing the field to just 50
Gatlinburg, Tennessee (PRWEB) December 22, 2015
Sugarlands Distilling Company, distillers of craft spirits in East Tennessee, has announced 50 nonprofit organizations to move into the next round of the MoonShare Year of Giving campaign for a chance to win a $5,000 MoonShare Grant.
All 50 finalists will have a chance to campaign for support on social media where the voting will be held. The top 12 organizations receiving the most support will be declared winners of a $5,000 MoonShare Grant to be used to further the mission of their organization.
From December 31, 2015 to January 31, 2016 the general public will vote on Facebook for their favorite 12 nonprofits to receive the MoonShare prize. Winners will be announced February 2, 2016.
"We had over 300 deserving organizations apply for the program this year, and it was not easy narrowing the field to just 50," said Courtney DeLaura, national director of the MoonShare program. "It is, however, refreshing to know there are so many people out there working hard every day to improve their communities."
MoonShare is a nationwide giveback component of Sugarlands Distilling Co. that helps nonprofit organizations positively influence their communities through MoonShare grants, fundraisers, and donations.
In 2015, Sugarlands Distilling Co. donated $60,000 to nonprofit organizations across the country. Each month one organization was selected by the public to receive a $5,000 MoonShare Grant to put toward a charitable cause.
To view a full list of the Top 50 MooShare Finalists, please visit moonshare.org
Sugarlands Distilling Company is a producer of craft quality moonshine and whiskey and is also a popular attraction in downtown Gatlinburg, Tennessee. Inside the distillery, guests can taste free samples of authentic Sugarlands Shine, take a behind-the-scenes tour of the production, and purchase a variety of moonshine flavors, mountain merchandise, and apparel. To enhance their experience, guests can enjoy live music, Appalachian storytelling, and book outdoor adventure tours in the Sugarlands, an area of the Great Smoky Mountains National Park historically referred to as "moonshiners' paradise." The company is East Tennessee-owned, with a focus on bettering the local community through a variety of events and charitable giving. Sugarlands Shine is currently available for purchase in FL, AL, MS, SC, NC, TN, KY, IN, IL, WV, MD, NY, CT, MI, VA and MN.