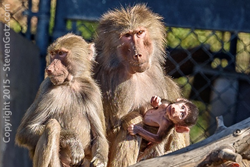 Zookeepers are excited and encouraged by behaviors that indicate the Zoo's large troop is reacting well to the new arrivals, said Margaret Rousser, Zoological Manager at Oakland Zoo
Oakland, CA (PRWEB) December 22, 2015
Oakland Zoo is proud to announce the birth of a baby baboon named Akila, which is Swahili for intelligent. In addition to the new arrival, two new male baboons, Milo and Kusa, have been acquired from Prospect Park Zoo in New York and are adjusting well to their new home in Oakland.
Baby Akila was born on November 15, 2015 and her parents are troop leader, Martijn (fourteen years of age) and Maya (10 years of age). Much of the infant's day is spent clinging to her mom's back and riding around their habitat. During the next few weeks, she can be seen nursing and sticking very close to her protective mother as her rambunctious siblings try to seduce her into becoming their playmate. Akila is the youngest of five older siblings (four females and one male).
***Media Advisory***
On Tuesday, December 23 from 11:30am to 12:30pm
Oakland Zoo will be offering the media photo and video opportunities of the baby baboon and two new male baboons. A zookeeper will also be available for interviews during this time. If you plan on attending, please arrive at 11:15am at the Zoo's Main Entrance, under the Oakland Zoo sign and contact Nicky Mora, Senior Manager, Marketing/PR at (510) 632-9525, ext 130, nmora(at)oaklandzoo(dot)org.
The young two-year-old males recently were released from Oakland Zoo's mandatory quarantine period, a standard Zoo policy, and were slowly introduced to their new troop. The males can be seen exploring their exhibit and getting familiar with the new family dynamics of their harem. Zookeepers are excited and encouraged by behaviors that indicate the Zoo's large troop is reacting well to the new arrivals. "The introductions are going wonderfully," said Margaret Rousser, Zoological Manager at Oakland Zoo. "We didn't expect it to go so quickly or smoothly, but we were pleasantly surprised. The great thing about baboons is that they are very family oriented and since the new boys are not sexually mature yet, Martijn has accepted them pretty easily." The Association of Zoos and Aquariums (AZA), which Oakland Zoo is accredited by, have issued breeding recommendations for this troop of baboons as the genetic lines are very valuable. Zoo officials are hopeful the two males will create two separate harems in the future.
Oakland Zoo has a total of fourteen baboons that can be seen daily by the public from 10:00am - 4:00pm at the Baboon Cliffs exhibit, located down the hill from the African Veldt. The Baboon Cliffs Exhibit opened in the fall of 2009 and is approximately 8,100 square feet in size. It includes a cascading waterfall, climbing structures, a spacious area for the baboons to roam, a night house facility, and offices for Zoo staff. Guests are able to observe all fourteen of the baboons from a large viewing deck.
About Hamadryas Baboons:
Hamadryas baboons live in complex social structures. An adult male will have several females in his "harem" which he will protect in exchange for exclusive breeding rights. The females will develop relationships as well and assist each other with child rearing. While the males are not as involved as the females in rearing the infants, they are good fathers who will protect their offspring and as they get older they will sometimes play with them or otherwise allow them to join in their activities.
A group of baboons is often referred to as a troop. They are generally 24 – 30 inches in length and can weigh up to 80 pounds (females weigh generally weigh around 40 pounds and males weigh 75-80 pounds). Hamadryas baboons eat vegetables, protein-rich insects, and some red meat. They have an active lifestyle and live to be around 30 – 40 years of age. Hamadryas baboons in the wild are found in Ethiopia, Somalia, Saudi Arabia, and Yemen. In the wild, baboons congregate in very large groups to sleep at night. During the day, they separate into smaller groups to forage for food. Throughout history, Hamadryas baboons were worshipped by Egyptians as the incarnation of their God, Thoth, who is often depicted with the head of a baboon.
About Oakland Zoo:
The Bay Area's award-winning Oakland Zoo is home to more than 660 native and exotic animals. The Zoo offers many educational programs and kid's activities perfect for science field trips, family day trips and exciting birthday parties. Oakland Zoo is dedicated to wildlife conservation onsite and worldwide. Nestled in the Oakland Hills, in 500-acre Knowland Park, the Zoo is located at 9777 Golf Links Road, off Highway 580. The East Bay Zoological Society (Oakland Zoo) is a nonprofit 501(c)3 organization supported in part by members, contributions, the City of Oakland and the East Bay Regional Parks. For more information please visit our website at http://www.oaklandzoo.org.
###