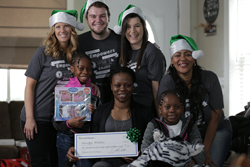 We have a proud tradition of giving back to our surrounding communities while providing education and experience that allows our customers to increase their ability and achieve their financial dreams
Seattle, WA (PRWEB) December 23, 2015
CreditRepair.com, a leading provider of credit report repair services, is proud to announce the launch of the newly created "Give Back" program, which will benefit select customers who have been with the service and may need an extra boost towards achieving their financial dreams.
In honor of the program launch, four top CreditRepair.com employees traveled from the Salt Lake City and Phoenix offices to Indianapolis, to shop for gifts for the deserving members and their families. The selected families include: a military veteran who experienced a divorce, a single mother of two girls looking to improve her score to advance her career, and a small business owner.
Agents Kolby King (Credit Advisor, Phoenix), Cody Adams (Team Lead, Salt Lake City), Sarah Dunn (Credit Advisor, Salt Lake City), and Angela Hess (Team Lead, Salt Lake City), donned green Santa hats, boarded a plane to Indianapolis, and brought with them abundant amounts of goodwill and holiday spirit.
"To actually be a part of something like this where we can see how credit repair empowers every individual to achieve the credit score they deserve…it gives me goose bumps," said Angela Hess, team lead from the CreditRepair.com Salt Lake City office.
Carolyn Waldon, a CreditRepair.com member since July 2014, had difficulty finding words to adequately capture the experience. "Thank you guys, so much," Waldon continued, "I'm overwhelmed, speechless, honored, grateful, and blessed." Waldon, the single mother of two young daughters, said she looked to improve her credit score when she realized her low score was holding her back from a promotion at work. She has since improved her score and received the job advancement she was working towards.
"We have a proud tradition of giving back to our surrounding communities while providing education and experience that allows our customers to increase their ability and achieve their financial dreams," said Scott Smith, president of CreditRepair.com. "Our company of experts believes that we can make a difference in your life. We understand that a credit score is not just a number — it's a lifestyle."
The "Give Back" program will continue to provide opportunity to more CreditRepair.com members throughout 2016. To read more about the families involved in the initial launch, please visit https://www.creditrepair.com/blog/credit-repair/creditrepair-com-gives-back/.
About CreditRepair.com
CreditRepair.com is a leading provider of credit report repair services in the United States. CreditRepair.com's team of credit experts educates and empowers individuals to achieve the credit scores they deserve. CreditRepair.com's technology provides members a personal online dashboard, a credit score tracker and analysis, creditor and bureau interactions, mobile apps, text and email alerts, and credit monitoring. For more information, please visit http://www.CreditRepair.com.