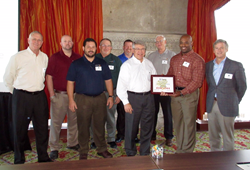 The Ricoh Service Excellence Award reflects the dedication of our service technicians to ensuring customers are successful each day
Nashville, Tenn. (PRWEB) December 29, 2015
RJ Young, one of the nation's largest independent office technology dealers, has earned the Ricoh Americas' Service Excellence Award. Ric Carr, Ricoh technical support manager for the Southern region, and Dru Baker, region VP-dealer division South, presented the award to Steve Huff, vice-president of service for RJ Young.
"It is again an honor for our service program to be recognized by a quality partner such as Ricoh", said Huff. "The Ricoh Service Excellence Award reflects the dedication of our service technicians to ensuring customers are successful each day."
Ricoh received submissions for the Service Excellence Award from office equipment dealers nationwide, who are then evaluated by their Ricoh technical support manager and then reviewed by the region managers and the director of dealer service support. The award is based on a combined score of the following categories: Use of Genuine Ricoh Parts and Supplies, Services-Led Initiatives, Hardware & Solutions Training, Relevant Industry Certifications, Service Organization Structure, Field Staff & Help Desk Productivity & Efficiency Measures, Customer Satisfaction Measurement Process & System, Effective Utilization of Ricoh Resources, and Business Plan Management & Process Improvement.
RJ Young has been a dealer of Ricoh made products since 1978 and has teams of specialists and technicians to consult with businesses throughout the Southeastern U.S. region on high quality, reliable, and very affordable business technology to run their businesses.
About RJ Young
RJ Young is one of the largest independent office technology dealers in the country, specializing in document management solutions, managed print services, IT services, office imaging and 3D printing equipment. Headquartered in Nashville, Tennessee, RJ Young has been in business for 60 years and has over 500 employees in over 20 sales and service locations across seven states. Under the corporate tagline "Your productivity is our mission," RJ Young helps modern professionals become more successful in their businesses with solutions to securely manage paper and digital information, maintain vital information technology systems and empower businesses with leading printing technologies. For further information, please visit http://www.rjyoung.com.
Picture: Left to Right: Mark Barrett, Chris Adkins, David Hamaker, Eddie Reagan, Matt Baker, Steve Huff, Tom Kimmons, Ric Carr- Regional Technical Manager at Ricoh Americas and Dru Baker – Region VP – Dealer Division South