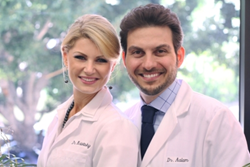 "Gum disease or gingivitis can actually pose a risk to a baby's health, which makes it all the more important to address dental and periodontal health issues before becoming pregnant," said Dr. Alina Krivitsky
Los Angeles, CA (PRWEB) December 29, 2015
It's no mystery that a woman's body goes through significant chances during pregnancy. For nine months, a mother-to-be will experience hormone fluctuations, weight gain, and even hair loss, but it doesn't stop there. According to Yahoo Parenting, the hormone changes that occur during pregnancy can also cause a woman's oral health to worsen. Experienced periodontists Dr. Alexandre-Amir Aalam and Dr. Alina Krivitsky discuss these connections and what can be done to prevent permanent dental damage.
"The most common oral health issues that can develop during pregnancy include gingivitis, gingival lesions, dental caries, and periodontitis," said board-certified periodontist and co-founder of the CENTER for Advanced Periodontal & Implant Therapy, Dr. Alexandre-Amir Aalam. "However, it's important to note that these oral health issues typically exist prior to pregnancy, but the hormones exacerbate the problem."
According to a national survey by Cigna, nearly 76 percent of participants admitted to suffering from oral health conditions during their pregnancy, and 43 percent admitted to skipping dental appointments during that time, as well.
"Oral health is usually one of the last things people want to deal with, especially during major life events, like pregnancy," added Dr. Alina Krivitsky. "But serious issues, like gum disease or gingivitis can actually pose a risk to a baby's health, which makes it all the more important to address dental and periodontal health issues before becoming pregnant."
For serious cases, advanced periodontal disease may not respond to conservative treatment, such as increasing brushing and flossing to two or three times a day. When non-surgical measures fail to improve oral health, cutting-edge procedures such as Advanced-Platelet Rich Fibrin treatments can significantly repair gum recession and strengthen overall periodontal health.
"One of the most common signs of advanced periodontal disease is gum recession," said Dr. Aalam. "Therefore, by reinforcing the gum tissue with the regenerative abilities of Platelet Rich Fibrin, we can restore healthy gum tissue in a much shorter time than with traditional gum grafts."
The best approach for protecting dental health during pregnancy is for women to seek dental care prior to becoming pregnant. Routine dental treatments can be performed up until the second trimester, but more intensive surgeries or procedures should be avoided until after the baby is born.
"Dental and periodontal health is important for men and women of all ages, but pregnant women in particular face certain risks to their oral health that should be addressed soon rather than later to prevent serious damage," added Dr. Krivitsky.
Dr. Alexandre-Amir Aalam and Dr. Alina Krivitsky are board certified Brentwood periodontists specializing in dental implants and gum and tissue diseases. They opened the CENTER, a periodontal office focused on providing patients with excellent and skilled care at affordable prices, with the goal of restoring oral health and aesthetic appearance. They are alumni of the prestigious Ostrow School of Dentistry at USC and are still heavily involved in academia and giving back to future periodontists at USC. They are also the only two board-certified periodontists in the Brentwood area of Los Angeles.
If you or someone you know is interested in scheduling an appointment at the CENTER for Advanced Periodontal & Implant Therapy, we encourage you to contact 310-826-8242 today.