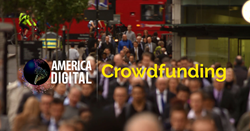 Power your professional development and generates a US$ 1 billion social impact
Silicon Valley, California (PRWEB) January 04, 2016
America Digital, an online networking and training platform that powers professional development through a focus on innovation, entrepreneurship, new technologies and digital marketing, has launched its first crowdfunding campaign on Indiegogo. The company hopes to raise $375,000 to finance the expansion of its bilingual platform so it can reach more professionals around the Americas. Contributions will be accepted until January 16th, 2016.
"Thanks to innovation and technology, we live in an age that offers endless opportunities," says Lesley Robles, Director of America Digital. However, despite that progress, Robles says 95 percent of business professionals do not have any formal education in entrepreneurship, innovation management, venture capital, or crowdfunding for business. He says professional training especially lags in the areas of Big Data, mobile technology, the Internet of Things, e-Commerce and digital marketing. With more than 200 hours of training content already loaded, America Digital is working to close the training gap by educating entrepreneurs to take full advantage of all that technology has to offer.
"With proper training, decision-makers from organizations, companies, and government can incorporate innovative business and social models to solve major problems in diverse areas such as Health, Housing, Government, Transportation, Employment and Education," Robles says. "We have the potential to create a one-billion dollar social impact."
America Digital is also the organizer of the upcoming Third Tech and Business Congress America Digital 2017 to be held at the Espacio Riesco Convention Center in Santiago, Chile, on June 21 and 22, 2017. Contributors to the crowdfunding campaign not only receive special discounts on their annual America Digital membership, but they can also get free tickets to the 2017 Conference depending on the support level they select.
Visit America Digital's crowdfunding campaign by January 16, 2016 to make a contribution or get more information on the support and reward levels for America Digital's crowdfunding campaign.
About America Digital
America Digital is a networking and training platform that seeks to empower business professionals to build strong networks, and embrace the power of technology and entrepreneurship to jumpstart their careers.