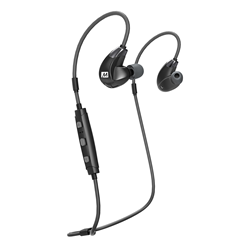 The X7 Plus is the latest and most feature-rich offering in a long line of MEE audio sports headphones
City of Industry, CA (PRWEB) December 29, 2015
MEE audio, premier manufacturer of wired and wireless headphones, earphones, and audio accessories, will expand its sports, wireless, and high-fidelity products lines with several new releases at CES 2016. The complete product line will be showcased and the key products below will be spotlighted with live demos.
Pinnacle P1 High Fidelity Audiophile In-Ear Headphones
The Pinnacle P1 high-fidelity in-ear headphones utilize an advanced moving coil transducer and proprietary acoustic diffuser to achieve a balanced frequency response, recreating music tracks with maximum clarity and resolution for the ultimate concert-in-your-head experience. Built to last, the Pinnacle is made of a hand-polished zinc alloy and features replaceable cables with MMCX connectors. Both high-fidelity stereo and headset cables are included.
"The Pinnacle is our most high-performing headphone ever" said Mike Jones, Marketing Director, "it is the product of years of work and utilizes some very unique solutions for both acoustic and physical design. The goal was to make something that's built like a tank and has all the advantages of a dynamic driver but sounds as delicate and detailed as a balanced armature system." A Hi-Fi listening room for P1 demos will be available at CES.
X7 Plus Wireless Sports In-Ear Headphones with Memory Wire
Engineered for active lifestyles, the X7 Plus combines high-definition wireless sound with secure, locked-in fit for unparalleled freedom of movement. Bluetooth 4.1 with Multipoint functionality and support for aptX and AAC HD audio codecs make it the most advanced Bluetooth in-ear headphone on the market while Liquipel Watersafe™ nano-coating technology provides protection from sweat and the elements.
"The X7 Plus is the latest and most feature-rich offering in a long line of MEE audio sports headphones" said Mike, "with this model we were able to push the battery life to 8 hours of continuous use and vastly improve sweat resistance with the use of Liquipel, making it the most capable sports headphone on the market". The secure fit and water resistance of the X7 Plus will be highlighted at CES with a live demo.
Connect Universal Dual Headphone/Speaker Bluetooth Wireless Audio Transmitter for TV
MEE audio's very first product for the connected home, the Connect is an advanced Bluetooth audio transmitter uniquely well-suited for use with TVs. The MEE audio Connect features universal connectivity with digital and analog audio inputs, the ability to stream to two Bluetooth wireless headphones or speakers simultaneously, and aptX technology for high-fidelity streaming with no lip-syncing issues, making it the ultimate HD wireless headphone solution for any home theater.
To view these demos and other headphone products and accessories, visit the MEE audio booth at CES 2016, located at:
Las Vegas Convention Center
Booth 21263, South Hall 1
Las Vegas, NV, USA
Jan. 6-9, 2016
Please contact MEE audio for appointments, product availability information, and with any other questions.
###
About CES
CES is the world's gathering place for all who thrive on the business of consumer technologies. Held in Las Vegas every year, it has served as the proving ground for innovators and breakthrough technologies for more than 40 years—the global stage where next-generation innovations are introduced to the marketplace.
Web: cesweb.org | Twitter: @CES | Facebook: facebook.com/CES
Instagram: instagram.com/cesofficial
About MEE audio
For more than five years, MEE headphones and earphones have won acclaim from casual listeners and audiophiles alike. Specializing in sports, wireless, and high fidelity headphones, MEE is committed to providing the best user experience, performance, and value with every product in order to deliver Music Enjoyment for Everyone.
Web: http://www.MEEaudio.com | Twitter: @MEEaudio | Facebook: http://www.facebook.com/MEEaudio
Instagram: instagram.com/meeaudio
For further information please contact:
Mike Jones
Marketing Director
MEE audio
marketing(at)meelec(dot)com