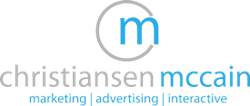 This is a great example of how our approach, which blends database management with strategic thinking and creativity, can make a huge impact for our clients
Omaha, Ne (PRWEB) December 30, 2015
On a typical direct mail campaign, a successful conversion rate is usually around 2 percent to an in-house database. But strategic marketing agency Christiansen McCain's recently-completed campaign for a leading IT solutions integrator racked up a conversion rate almost unheard of in the industry — over 13 percent.
The secret? Christiansen McCain's unique approach to strategic marketing, which blends together targeted database management, smart creative tactics and skilled, comprehensive execution for the kinds of results that are impossible to ignore.
"We were really excited to work with this client because we knew exactly what they wanted to achieve and how we could help them do it," said Caid Christiansen, CEO of Christiansen McCain. "They had been getting some pretty flimsy results with other agencies, but we've seen our approach work before and we knew it would work here. The results have been astounding."
The IT solutions integrator came to Christiansen McCain frustrated that past direct mail and email marketing campaigns that had fallen short. The client needed to hit it big on its next effort, which aimed to spread awareness about an international technology giant's next wave of enterprise servers.
Working closely with the client, Christiansen McCain analyzed their database and developed a strategic database marketing plan that included direct mail, and email marketing campaign as well as singularly focused conversion pages to generate new leads. The campaign also cross-sold the benefits of the new servers at every touch point to ensure the message stuck. Christiansen McCain wrote the strategy, developed the concept, executed the design, tracked results and provided reporting for the entire campaign, something that many agencies can't do.
As the client had hoped, the campaign exploded with new leads. In a single month, the campaign tallied more results than typical campaigns usually generate in an entire year. The direct mail portion had a conversion rate of over 14 percent and the email effort hit 13 percent. The campaign was so successful the client ended up shutting it off early, but Christiansen McCain is teeing up several more new campaigns for the same client in 2016.
"This is a great example of how our approach, which blends database management with strategic thinking and creativity, can make a huge impact for our clients," said Chris McCain, President of Christiansen McCain "We're excited to take this methodology and extend it across multiple campaigns and really help our client increase lead generation across the board."
Christiansen McCain LLC is a full service strategic marketing, advertising and interactive agency. Founded in 1998, we serve local and regional clients, as well as Fortune 500 companies. Areas of expertise are agriculture, healthcare, heavy equipment, home accessory, information technology and sports apparel. CM thinks like a CMO and executes results-driven tactics on levels that other agencies can't match. Since the beginning, our goal has been to become our clients' marketing right arm and to truly understand what makes their customers tick. For more, visit http://www.christiansenmccain.com.