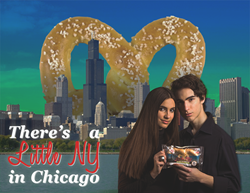 The Best Pretzel Ever
Monticello, New York (PRWEB) February 01, 2015
Entering into their marketing phase by offering routes for sale, LittleNY, Inc. has successfully introduced its flagship product LittleNY Pretzels into hundreds of independent convenience food stores in 15 states. This all new, one of a kind shelf stable soft pretzel, is made for the grab and go at the checkout counters. Product is selling fast, and distributors across America are jumping on board.
LittleNY Pretzels is the signature product for a growing company with a charitable flair. Developed and manufactured by LittleNY, Inc. LittleNY Pretzels provides the vehicle to help fund community charitable causes such as Mariah Carey's Camp Mariah at the Fresh Air Fund of New York. Both manufacturer and vendor select charitable causes ensuring local, regional, and national support for qualified charities.
By way of advertising current routes for sale at Distributorship.com a wholesale distribution index, LittleNY Pretzels is a brand new product with 4 delicious flavors: lightly salted, plain, blueberry, and cinnamon sugar. This product is hand twisted, freshly baked, and holds an outstanding 12 month shelf life designed to serve the grab and go pretzel clientele. It's best served by simply heating in a microwave though, surprisingly enough, it's delicious right out of the package.
LittleNY is the signature product of LittleNY,Inc., offering high revenue wholesale distribution opportunities. Wholesale distributors interested in routes for sale can visit Distributorship.com, to qualify for samples and business information.