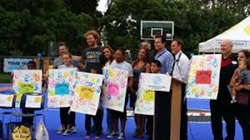 "Sport Court and our Champions of Community initiative is pleased to support the WorldVentures Foundation and Nancy Lieberman Foundation on these important DreamCourt projects and provide high-quality Power Game™ surfaces for safe play," said Joe Ure
Salt Lake City, Utah (PRWEB) September 28, 2015
Sport Court® recently installed two new DreamCourts that were formally dedicated last week in partnership with the Nancy Lieberman Foundation and the WorldVentures Foundation in Long Beach CA and Oklahoma City.
DreamCourts are state-of-the-art basketball facilities built in lower-income communities through a collaboration among the WorldVentures Foundation™, Nancy Lieberman Charities and Sport Court®.
On Sept. 21, the dedication of the new DreamCourt was held at the Long Beach, CA Boys & Girls Club's Freeman E. Fairfield/Westside Center with both the Lieberman and WorldVentures foundations and Life is Good, and the DreamCourt in Oklahoma City was dedicated Sept. 24 at the Santa Fe South Elementary School.
"Sport Court and our Champions of Community initiative is extremely pleased to have supported the WorldVentures Foundation and Nancy Lieberman Foundation on these important DreamCourt projects that will provide high-quality Power Game™ surfaces for safe play at the Boys & Girls Clubs in Long Beach, CA and the Santa Fe South Elementary School in Oklahoma City," said Joe Ure, Sport Court Director of Residential Sales.
About Sport Court http://www.sportcourt.com
As the original modular sports flooring, Sport Court developed and continuously improved modular flooring since introduction 40 years ago, in 1974. Sport Court is the market leader in modular sports flooring and has built systems for many elite associations including the NBA, NCAA, FIBA, USATF and USA Volleyball. We specialize in both wood, synthetic and modular sports flooring and have appropriate solutions for every type of athletic, park or multi-use facility.
Sport Court® is a registered trade mark of Connor Sport Court International. More athletic events are played on Connor Sport Court surfaces than on any other sports flooring in the world. Sport Court is on Facebook at http://www.facebook.com/sportcourt1974 and on Twitter @SportCourt1974.