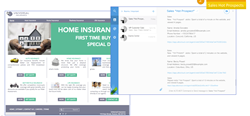 Our priority is to work with ISVs like Altocloud to deliver value for our customers, said Jason Goecke, General Manager, Cisco Tropo Business Unit.
San Francisco, CA (PRWEB) December 08, 2015
Altocloud, the digital customer engagement company, today announced availability of its integration with the Cisco Spark platform. Cisco Spark brings teams together instantly in rooms where you can send messages, share files and meet face-to-face, all in one place. Altocloud, recently named a Cool Vendor in Gartner's CRM Customer Service 2015 report (link), intelligently identifies the optimal online visitors and delivers tailored messaging, voice, video and personalized content, so customers get the information and help they need at exactly the right moment.
"For companies doing business online, Altocloud connects Spark users with the right customers at the right time in their journey – accelerating revenue and enhancing customer experience," noted Altocloud CEO Barry O'Sullivan.
Here's how the integration works:

Altocloud identifies visitors of interest on a company's website and instantly alerts team members in a Spark room. Whichever team member is available to respond greets the customer.
Altocloud instantly sets up a 1-to-1 private Spark room for the available team member and the customer, enabling a deeper engagement when it matters most.
The team member can access context regarding the customer from the room such as customer persona and journey history.
"Our priority is to work with ISVs like Altocloud to deliver value for our customers, said Jason Goecke, General Manager, Cisco Tropo Business Unit. Together, Cisco Spark and Altocloud give businesses a new way to engage with their digital customers – enhancing collaboration and delivering business outcomes."
The Altocloud platform combines machine-learning technology with real-time communications to predict the right time to interact with online visitors according to visitor behavior and desired business outcomes. Altocloud and Cisco have built multiple integrations, including Cisco Finesse for Contact Centers and Cisco Context Service. Today's announcement marks the start of an exciting new chapter in cloud collaboration, with commitment to integrate Altocloud with Cisco's other cloud APIs as they evolve.
Altocloud will be exhibiting its solution at the Cisco Collaboration Summit 2015 conference, December 8-10.
About Altocloud
Altocloud delivers smarter interactions with online prospects and customers by using machine learning and predictive analytics to deliver real-time communication, including personalized content, messages, voice and video, when it will be most effective. Delivered through an easy-to-deploy SaaS platform, the Altocloud software helps companies reach online prospects at just the right moment to help close sales, drive revenue and streamline customer experiences. The company is based in Mountain View, Ca. See http://altocloud.com.