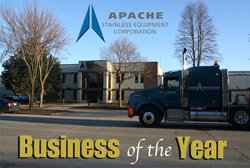 We are committed to being a part of the Beaver Dam community and we are proud to be among the esteemed list of businesses, charities and individuals from years past.
Beaver Dam, Wis. (PRWEB) January 08, 2015
The Beaver Dam Chamber of Commerce chose Apache Stainless Equipment Corporation to receive the Business of the Year award. Apache will be honored along with the Citizen of the Year, Rhonda Steiner and the Non-Profit of the year, the Dodge County YMCA at an annual banquet on January 28, 2015.
Apache is being recognized for success in promoting manufacturing jobs and supporting the community of Beaver Dam.
The company has made it a priority to work with students, parents, educators and other businesses in the greater Dodge County area to create awareness for manufacturing jobs to help all businesses increase the skilled trades pool. Pam Korth, Manager of Human Resources at Apache Stainless is the current Chairperson of the Manufacturing Business Alliance. The alliance was created to promote the benefits of industrial manufacturing jobs in the community and local area.
Apache is also being recognized for financial support and employee sponsorship for community programs and non-profit organizations. Apache's philosophy for civic responsibility includes sponsoring employees to join community programs and activities, which promotes volunteerism. The financial support with the commitment from the employee helps to sustain programs in the community with continued civic service by the employee.
Ed Paradowski, President of Apache Stainless commented, "This is a great recognition for the company and for our employee-owners. We are committed to being a big part of this community and we are very proud to be among the esteemed list of businesses, charities and individuals from years past."
Award recipients were selected by representatives of past award recipients. The award dinner is open to the public and is held at Old Hickory Golf Club, Beaver Dam.