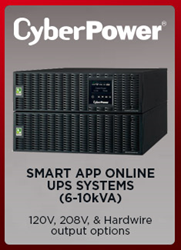 As a true manufacturer, our new models continue to provide customers an exceptional blend of price and performance combined with industry-leading technology that is critical to demanding enterprise customers.
Minneapolis, MN (PRWEB) April 28, 2015
CyberPower Systems (USA), Inc., a global leader in power protection and power distribution equipment for small- to medium-sized businesses and data center environments, offers nine new Smart App Online uninterruptible power supply (UPS) systems: OL6000RT3UPDU, OL8000RT3UPDU, and OL10000RT3UPDU (three models with 208V and hardwire output), OL6000RT3UPDUTF, OL8000RT3UPDUTF, and OL10000RT3UPDUTF (three models with 120V, 208V and hardwire output) and OL6KRT3UHW, OL8KRT3UHW, and OL10KRT3UHW (three models with hardwire output only).
The new Smart App Online UPS systems provide pure sine wave output to power and protect mission-critical IT equipment, data center installations, high-end servers, large telecom installations and storage applications, and advanced network equipment. They feature online double-conversion topology that is compatible with generators and delivers clean, consistent 200-240V AC power. Models with step-down transformers are designated "TF" and also provide 120V power. Models with hardwire output only are designated with "HW". All models offer zero transfer time to protect connected equipment and prevent costly business interruptions.
"CyberPower continues to expand our line of Smart App Online UPS systems with nine new online double-conversion models", states Tim Derochie, Director of Product Management for CyberPower Systems (USA), "As a true manufacturer, our new models continue to provide customers an exceptional blend of price and performance combined with industry-leading technology that is critical to demanding enterprise customers."
Adds Dorian Haro, CyberPower's Senior Product Manager, "Our new online double-conversion models range from 6kVA to 10kVA capacity with a standard 3-year product warranty that includes the batteries, standard. Each model also offers a powerful set of management features that include (but not limited to): GreenPower UPSTM ECO mode technology, Smart Battery Management and Fast Charge Technology to improve energy-saving and time-saving performance in the network or data center."
Designed for Critical Uptime
Auto-bypass ensures that connected equipment will continue to operate seamlessly when an overload or internal fault is detected. A Maintenance Bypass Switch allows for the UPS power module to be hot-swapped for service or replacement without cutting power to the connected equipment. A patented interlock bracket makes the hot-swap process easier and quicker to complete.
Energy Savings and Ease of Use
The configurable GreenPower UPS™ ECO mode improves UPS efficiency to 95% and reduces electrical and cooling costs. CyberPower's Smart Battery Management technology uses a three-cycle charging process to reduce heat and improve battery life. The Extendable Multifunction LCD control panel provides 43 information status and configuration settings—including power status for (19) different parameters, (24) settings for setup, control, and testing, and (3) selections for event logging. Using an optional cable, the display can be removed and mounted up to 10 feet away for greater visibility and ease of use. Information can be shown in English, Spanish, French, or German.
Flexible and Versatile
These models incorporate microprocessor-based digital control and include PowerPanel® Business Edition software for flexible control and management of your UPS system(s). An optional SNMP/HTTP remote management card (RMCARD302/303) supports networked management and control through a standard web browser. The RMCARD303 also supports the ENVIROSENSOR connection to monitor temperature and humidity, receive notifications, and monitor third party sensors via dry contacts.
Technical Support and Quality Assurance
CyberPower assists customers with product, installation, or warranty questions, free of charge. These UPS systems have passed the highest quality standards in design, assembly, material or workmanship; each is covered by a three-year warranty and a $300,000 connected equipment guarantee. All CyberPower manufacturing facilities are ISO-9001 quality tested. Each Smart App Online UPS System is ENERGY STAR® certified and offers Cisco® EnergyWise™ compatibility. Each UPS system is FCC, cUL, and UL certified.
About CyberPower Systems
CyberPower designs and manufactures uninterruptible power supply systems, power distribution units, surge protectors, remote management hardware, power management software, mobile chargers and connectivity products. The company serves customers in enterprise, corporate, government, education, and small office/home office environments.Engineered to meet demanding requirements and exceed international safety and environmental standards, CyberPower products are available through authorized distributors and sold by value-added resellers, system integrators, managed service providers, select retailers, and online. The company has offices and distribution centers in The Americas, EMEA, and Asia Pacific regions. For product inquiries call 1-877-901-1930 or email sales(at)cpsww(dot)com. Learn more at http://www.cpsww.com.
2015 CyberPower Systems (USA), Inc. All rights reserved. All other trademarks are property of their respective owners.