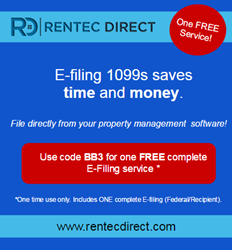 E-filing 1099-MISC tax documents through Rentec Direct's property management software saves our clients time and money
Grants Pass, OR (PRWEB) January 15, 2015
To assist property managers with preparing 1099-MISC forms, Rentec Direct's property management software offers e-filing services and a 1099 Tax Assistant that generates easy to read reports.
E-filing let's users submit 1099 tax documents directly to the IRS and includes mail outs to recipients.
Preparing and issuing year-end statements for rental property clients coincides with the IRS requirement for all taxpayers to issue Form 1099 - Miscellaneous Income to any non-employee vendor or worker that receives more than $600 during the tax year.
For property managers, rent payments made to property owners also fall under this category, making it necessary to file 1099-MISC for every owner that received rental income payments over $600 throughout the tax year. The IRS sets a strict deadline for submitting 1099-MISC forms to recipients by February 2, 2015.
Rentec Direct subscribers can access a 1099 Tax Assistant report to pre-populate 1099 Tax Forms directly through the software. The 1099 Tax Assistant Report and the 1099 e-filing feature will utilize all owner distributions and vendor payments entered throughout the year.
Rentec Direct's 1099-MISC e-Filing and print options are handled through an IRS approved 3rd Party (Nelco). Rentec Direct users are directly connected with Nelco's software to send 1099-MISC data straight to the IRS and all completed filings can be remotely printed and mailed directly to recipients.
"E-filing 1099-MISC tax documents directly through our property management software saves our clients time and money," says Rentec Direct's president, Nathan Miller.
Rentec Direct's US-based customer support team is available to help clients with any 1099-MISC e-filing questions and can be reach during normal business hours at (800) 881-5139.
About Rentec Direct
Rentec Direct provides cloud based rental software solutions for property managers and landlords. Rentec Direct services include tenant screening packages, tenant ACH payment processing, marketing tools and online syndication of vacancies to more than 20 popular websites.