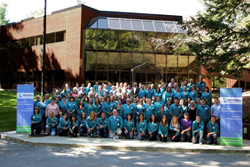 As employee-owners, we are truly vested in the success of our customers and of our company.
Milford, NH (PRWEB) October 27, 2015
Since 2002, Cirtronics has offered an Employee Stock Ownership Program (ESOP), now at 40% ownership. Cirtronics' culture of ownership runs through all aspects of the organization, extending from relationships with suppliers through shipping of every single product. Employee-owners are direct stakeholders who recognize the customer as an extension of their own business. Dedicated to positive outcomes and proactive engagement, employees bring their best to every interaction with customers and to every decision impacting the company infrastructure and offerings.
"We are so lucky to have the opportunity to co-own a company that truly values its employees and creates such an inclusive, service based culture", says David Patterson, Chief Operating Officer. "As employee-owners, we are truly vested in the success of our customers and of our company".
Patterson continues, "Cirtronics focuses on growing the people in the organization". This investment in employee development translates into a dedicated and loyal workforce, with many employees on staff for 10 years or more. And it translates into profitability too--the company has just celebrated another profitable quarter.
Cirtronics employee-owners embrace the culture of ownership and their sense of stewardship extends to both the surrounding community and the environment through ongoing relationships and initiatives. For their customers, Cirtronics offers cutting edge technical capabilities and experience, dedication to quality, and a sincere focus on fostering proactive and positive customer relationships. Cirtronics' culture of ownership and Precision Engagement™ manufacturing build confidence as well as high quality products.
Founded in 1979, Cirtronics is an employee and woman-owned contract manufacturer for quality-sensitive electronics, electro-mechanical assemblies and box builds serving a wide range of markets including robotics, med/tech, communications, aerospace, military, security, industrial, and others. To learn more about Cirtronics, Precision Engagement™, and their culture of ownership visit http://www.cirtronics.com.
For more information on ESOP, visit http://www.esopassociation.org.