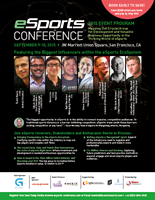 "The biggest opportunity in eSports is in the ability to connect massive, competitive audiences." - Oscar Miranda, Head of eSports for Wargaming America, Wargaming
San Francisco/London (PRWEB) April 29, 2015
The eSports Conference, taking place in San Francisco in September, will address the current challenges and priorities within the competitive gaming industry, whilst encouraging brands to take action and gauge opportunities within the space.
Todd Harris, the COO and Co-Founder of Hi-Rez Studios – the makers of Smite – will be leading a keynote on how Smite became a top eSports game through community engagement, and will be joined on the Speaker Faculty by Ralf Reichert, Managing Director, ESL; Kevin Lin, COO, Twitch; and Robb Chiarini, Senior Competition Manager, Ubisoft. Legal viewpoints will be shared by eSports Attorney Bryce Blum with further insight on rules and regulations by Ujesh Desai from Logitech G.
eSports has been making a positive splash in the media recently, with news of 10,000 tickets to the International Dota 2 Championships in Seattle selling out in just ten minutes and the announcement of Gfinity's £1m partnership agreement with The Sun. Not only is this legitimate confirmation of the popularity of the eSports industry, but it also signals the growing power of this lucrative market - Newzoo Research predicted that eSports viewership is set to double from 58m to date to reach 145m by 2017.
Smite's 2015 World Championship kicked off January with a $2.6m prize pool (the 4th largest prize pool for eSports earnings as of April 29, 2015); however, most prize pools for tournaments in the US have stayed near the $250k mark, with only a few to hit $1m. Further, with the intense growth rate of the community, the rapid proliferation of tournaments and teams have started to stretch both talent and financial resources thin. The lack of rules and regulations on tournaments, player equality, talent management and media rights have left players and eSports organizations vulnerable to exploitation.
So, how can the eSports industry pull itself together to create a more stream-lined, organized movement? How can eSports encourage sponsorships and involvement from non-traditional brands in order to stabilize the industry and invest in future growth?
To tackle these issues, key eSports influencers are gathering at the first North American standalone conference dedicated solely to competitive gaming, the eSports Conference, to discuss a series of critical topics including Women in Gaming, Talent Management and Rights, Sponsorship Deliverability, Online Betting, Rules and Regulations and more.
Rahul Sood, CEO of Unikrn and creator of Microsoft Ventures, will be leading a keynote on eSports and Betting. It was just announced on Tuesday that Unikrn has entered into a global partnership with Tabcorp, a wagering business, to launch a new online eSports platform, on which people can gather, game and safely bet on organized, sanctioned multiplayer video game competitions from around the world.
The eSports Conference will take place from September 9-10, 2015 at the JW Marriott Union Square in San Francisco, CA, 100+ eSports stakeholders and those interested in eSports will be able to meet and network in a neutral and intimate business setting. Complete event information is available online at http://www.esports-conference.com. Applications for limited VIP passes to the conference are now being accepted; conference pass fees will apply. Contact Kim Vigilia at kv(at)kisacoresearch(dot)com for inquiries.