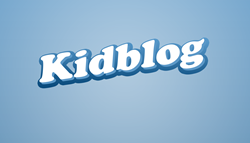 The new platform is awesome! My students and families really love Kidblog. - Sharon Davison
(PRWEB) May 04, 2015
Kidblog is proud to announce the release of their newly redesigned student publishing platform. Kidblog.org serves over 5 million K-12 students, teachers, and parents around the world. Based on teacher input, the new platform delivers significant advancements in enabling students to share their voice with an authentic audience.
The new platform is built on three principles:
1) Safe and Simple – Kidblog is elegantly simple and relevant for today's digital learner, yet powerful enough to transform the writing experience for students of all ages. Flexible privacy settings meet the security demands of teachers, parents, and schools.
2) Student-Centered – Kidblog is designed to help students find their voice. Each author's creation is unique, with its own purpose, tone, and audience.
3) Authentic Audience – Writing is meant to be read. Kidblog makes it easy for students to share posts with their teacher, their classmates, connected classes, and the world.
In addition to enhanced privacy and a great new look, the new Kidblog platform delivers:

Multi-year Digital Portfolios – seamlessly document learning across school years
Admin Pro Dashboard – easily manage hundreds of Kidblog classes within an organization
New Media Library – access hundreds of high quality images and easily embed videos
Kidblog is a safe and simple publishing platform, built for teachers, to motivate students to share their voice with an authentic audience, and in the process, transform their communication skills.
Interested in trying the new platform? Create a class.
Follow Kidblog on Twitter @KidblogDotOrg hear what teachers are saying.