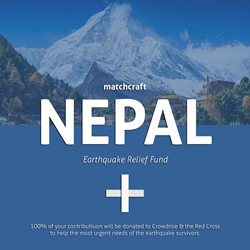 "We felt strongly that we wanted to do something to help the people of Nepal," says Sean Greene, MatchCraft's CEO.
Santa Monica, California (PRWEB) May 12, 2015
At MatchCraft, the recent earthquake in Nepal hit surprisingly close to home.
Kuntal Joisher, a developer based in India who has worked for the Southern California online marketing technology company for three years, was making his second summit attempt on Mount Everest when the ground shook on April 25, triggering deadly avalanches on the world's tallest mountain. Joisher survived, but thousands of others in Nepal did not.
On behalf of Kuntal and his fellow climbers, and to remember the thousands who perished and many more who lost their homes and possessions, MatchCraft created the MatchCraft Nepal Relief Fund on CrowdRise, asking partners and friends to help the company raise money for the Red Cross's relief efforts in Nepal.
MatchCraft has set a target of $10,000 for the fund and made an initial contribution of $1,000. Contributions from partners, employees and friends have brought the fund's total to more than $2,600 in less than a week.
"We felt strongly that we wanted to do something to help the people of Nepal," says Sean Greene, MatchCraft's CEO. "We are relieved that Kuntal is okay, but many of his fellow climbers weren't so lucky. Raising money to help with the earthquake relief efforts is the best way for us to help from our side of the world."
Joisher's terrifying experience was documented in a much-watched YouTube video, taken at Everest's base camp at the moment of the avalanche. The video can be seen at https://youtu.be/_JC_wIWUC2U; Joisher is in the white t-shirt. (Warning: The video contains profanity, understandable given the circumstances.)