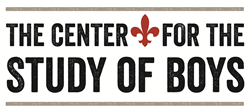 'It is our hope that, together, we can help boys develop into leaders who will make a positive impact on our world.' - St. Christopher's Headmaster Charley Stillwell
Richmond, Virginia (PRWEB) April 10, 2015
Dr. Michael Kimmel will kick off the "Journeys to Manhood" series at St. Christopher's School at 7:00 pm on Thursday, April 16, 2015 in Scott Gym in Kemper Athletic Center. Attendance is free and open to the public. The event celebrates the launch of the school's Center for the Study of Boys—an extension of St. Christopher's unwavering commitment to be a global leader in the education of boys.
Kimmel is among the leading researchers and writers on men and masculinity in the world today. He is distinguished professor of Sociology and Gender Studies at Stony Brook University, where he directs the Center for the Study of Men and Masculinities. Kimmel is the author of more than 20 books, including Manhood in America: A Cultural History (1996), which was hailed as the definitive work in the field. Kimmel's best-seller, Guyland: The Perilous World Where Boys Become Men (2008) investigates young people's lives today, based on interviews with more than 400 young men, ages 16-26.
The Center for the Study of Boys is dedicated to promoting best practices in engaging and teaching boys through research, professional development and programming. It serves as a resource for the St. Christopher's community—teachers, parents and the boys themselves—and is also a resource both locally and globally for those interested in understanding and working with boys.
St. Christopher's School, founded in 1911, is a college preparatory school for boys (junior kindergarten through 12th grade) located in Richmond, Virginia. A rigorous academic program, small classes, dedicated and nurturing teachers who are experts in how boys learn, a vibrant program in athletics and the arts, and a commitment to academic excellence and diversity are attributes of a St. Christopher's education.